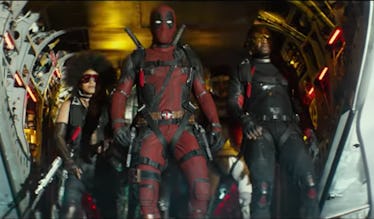 The First 'Deadpool 2' Trailer Is Finally Here & We're Already LOLing
20th Century Fox
Everyone's fave foul-mouthed, quick-witted snarky superhero back... and man, fans just realized how much they've missed him. The Deadpool 2 trailer has finally arrived, and it's chock full of action, adventure, annnnnd jokes about gluten and Sisterhood of the Traveling Pants. I wouldn't have it any other way.
Ryan Reynolds' badass mutant mercenary not only has irreverent quips to spare, he's bringing a new accomplice on for the wild ride —Atlanta's Zazie Beetz is introduced as the probability-manipulating Domino. Audiences also get another look at Josh Brolin's villainous futuristic Cable — who got his own standalone teaser last month — and his quest to capture the kid. As far as familiar faces go, Wade Wilson's lady love Vanessa (Morena Baccarin) returns, as does his goofy pal Weasel (T.J. Miller), and Nagasonic Teenage Warhead (Brianna Hildebrand). Deadpool is looking to form a super group this time around, featuring a band of fighters who are "tough, morally flexible and young enough to carry their own franchises for 10 to 12 years." Touche, writers. Behold, the X-Force! "Isn't that a bit derivative?" remarks Zazie's Domino. Ah, Deadpool never fails with the meta, self-aware humor. Not to mention, the profanity. This movie practically deserves its own dictionary of creative curse words.
The synopsis for Deadpool 2 is as follows:
After surviving a near fatal bovine attack, a disfigured cafeteria chef (Wade Wilson) struggles to fulfill his dream of becoming Mayberry's hottest bartender while also learning to cope with his lost sense of taste. Searching to regain his spice for life, as well as a flux capacitor, Wade must battle ninjas, the yakuza, and a pack of sexually aggressive canines, as he journeys around the world to discover the importance of family, friendship, and flavor – finding a new taste for adventure and earning the coveted coffee mug title of World's Best Lover.
Yeah, I'm guessing that's not entirely serious... but when has this franchise ever taken itself seriously? The first trailer for the sequel was Bob Ross inspired.
Deadpool's highly anticipated second installment is directed by John Wick's David Leitch, who replaced Tim Miller after he stepped down. 2016's Deadpool holds the record as the most successful R-rated film of all time, so the pressure is on. From what we've seen so far, the follow-up captures the raunchy, playful, and action-packed magic fans have come to expect from the franchise and its saucy leader.
"There's a lot of stuff going on in Deadpool and it's very surprising and it will be very satisfying when you see it," Josh Brolin teased on Good Morning America last year. "It's even funnier than the first one ... When they asked me to do it, I was like, 'I'm doing the Thanos thing right now, and should I do it?' And my wife just said. 'Read it. Why are you even thinking? Just read it.' And I read it and I laughed harder than I've laughed in a very long time. So it's funny."
The Thanos Brolin refers to is his role in the upcoming Avengers: Infinity War.
While the man behind Cable hints at more humor in Deadpool's next chapter, Zazie Beetz aka Domino, feels it explores darker themes, too. The actress revealed:
In Deadpool 2 I think we go heavier than the first one did," the actress added. "Like Atlanta, the themes are darker. I liked playing this woman who could meet Deadpool face-to-face and toe-to-toe. In terms of our wit and our banter, we match. It really was nice to play that.
Since Deadpool stepped on the cinematic superhero scene, its showed off its out-of-the-box, humorous, and often amusingly absurd approach to the genre. To say fans are ready for more red-suited ridiculous antics is an understatement.