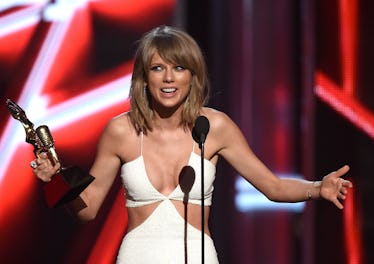 It Doesn't Look Like Taylor Swift Is At The AMAs & Fans Are Wondering Why
Ethan Miller/Getty Images Entertainment/Getty Images
The year 2017 has been nothing if not completely full of Taylor Swift. I'd go so far as to say it's been rampant with her. With the build up and drop of her Reputation album, it was hard to look anywhere and not see her face. She's all but taken over with her new look and sound, leaving us all a little exhausted and glossy-eyed. So, you can imagine we're all wondering where is Taylor Swift at the 2017 AMAs? Like, why isn't she there?
Tonight is one of the biggest evenings in music; the American Music Awards are predominantly voted on by fans. Music giants like The Weeknd, Drake, Beyoncé, Rihanna, Ed Sheeran, and more will all be pouring in from their respective corners of the globe to see if they've delivered hard enough to the public and their fans this year. Even though Reputation is a relatively new album, there's no arguing it's been a huge success since it's release on Nov. 10 and totally worth the hype.
Speaking of, Swift began to build said hype at the end of this summer when she famously deleted every photo on her Instagram account and replaced it with graphics of a snake. Boy-oh-boy did we have no idea what was coming, but man-oh-man did we know we were excited for it.
Fast forward three months, and we've since been gifted with arguably Swift's greatest masterpiece yet. After weeks and weeks of sneak peeks, teaser videos, bizarre photos, special performances, and a few behind-the-scenes moments, 15 glorious tracks fell into our laps — er, onto our iTunes accounts — and we haven't been the same since.
One of the best part of Reputation is how many relationship innuendos and references to some of Swift's biggest celebrity feuds are all packed neatly into one record. Some say that with the success of this album, Swift has finally managed to shift her reputation from the girl next door to the girl next door with LOTS OF ATTITUDE.
I mean, look at this face.
So angsty.
Not so long ago, Swift unleashed her first single off the album, "Look What You Made Me Do," during the 2017 Video Music Awards. It ended up being a cinematic music video adventure and changed Swifties lives forever.
I guess we were hoping for more of this same at the AMAs, but alas, she's nowhere to be found.
It seems like a good, old-fashioned red carpet immediately following the drop of your new album would be a good time to capitalize on the PR storm and buy a new dress, but what do I know? I'm not a Grammy award winner or anything.
Plus, we were not-so-secretly hoping we'd catch a glimpse of Swift hanging out with her boyfriend, Joe Alwyn.
Not to mention, her longtime bestie Selena Gomez is performing and we thought maybe she'd show up to support her friend... or to throw shade at Katy Perry... or to give us an encore performance... or ya know, literally anything.
Taylor, why you gotta be like this, huh?
Some fans think she might be cuddled up somewhere with her boo-thang watching the action from afar. Some say she's in the studio coming up with her next grand idea as we speak. Maybe everyone's wrong, and she's just at home feeding her cats.
I know one thing is for sure — she isn't just hiding. Wherever Swift is, I'm sure it's incredibly premeditated and for good reason.
If you're out there Taylor, we miss you.
Check out the entire Gen Why series and other videos on Facebook and the Bustle app across Apple TV, Roku, and Amazon Fire TV.