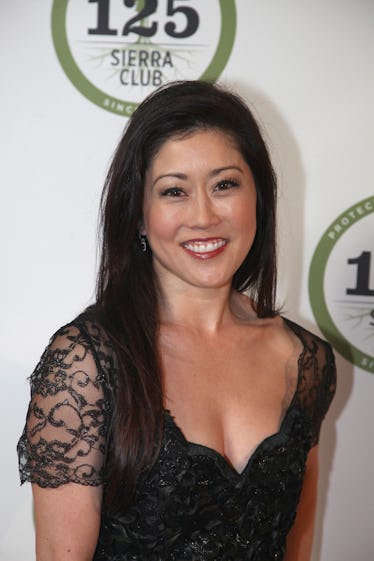 Where Is Kristi Yamaguchi Now? The Former Olympian Is Still Doing Big Things
Kelly Sullivan/Getty Images Entertainment/Getty Images
The 2018 Olympics are scheduled to kick off in just a few short weeks on Feb. 9, and there is one sport that has always gained the most attention at the Winter Games: ice skating. The competitors instantly become household names throughout their Olympic run. Among the handful of skaters who have earned celebrity status, one of those names is a 1992 gold medalist. So, where is Kristi Yamaguchi now? The two-time world champion has had an impressive career.
Now's about the time when we start where we suddenly start taking up an interest in lesser-popular winter sports like luge, curling, and skeleton. (That's the one where someone sleds head-first at ridiculous speed.) But skating will always be on people's radars. It's beautiful to watch, it's easy to judge from one's couch, it's set to music, and it's always exciting. Kristi Yamaguchi has become one of the most recognizable stars of the sport over the years. Kristi then went on to come out on top at Albertville in 1992, notably competing alongside Tonya Harding and Nancy Kerrigan, becoming the first Asian American woman to win an Olympic gold medal in ladies singles.
But the accomplished athlete didn't stop there. What has the now-46-year-old been up to since triple-axeling to stardom?
Family Life
"I did actually meet my eventual husband at the Olympic games, so '92 was a great year," she told PEOPLE of hockey player Bret Hedican. "But it's funny because we didn't actually get reintroduced until a few years later. We were in separate villages. That particular Olympics, there were three Olympic villages. And also, the women's competition, we were the second to last day of the Olympics to compete. So I was focused." Kristi and Bret married in 2000 and have two daughters together.
Using Her Skills
In addition to going pro and touring with Stars on Ice, Kristi has lent her expertise to ice skating from the sidelines as an analyst. She was even a broadcast commentator for NBC at the 2010 Olympic Games.
Adding Author to Her Resume
Yamaguchi has penned several uplifting children's books with positive messages over the years, including Dream Big, Little Pig! and Cara's Kindness.
Philanthropic Endeavors
Yamaguchi established the Always Dream Foundation in 1996 in order to advance the cause of childhood literacy. "We believe our greatest gift to a child is to provide them with the necessary literacy resources to increase overall academic success and life potential," reads the non-profit's mission statement on its website.
Dancing With the Stars
No surprise here — Kristi was a natural when she joined the cast of 2008's Dancing With the Stars Season 6 roster. The figure skater won the mirrorball trophy with the help of her pro dance partner, Mark Ballas.
She returned to the show in 2017 to perform trio-dances alongside other former all-stars from the competition.
Kristi spoke to USA Today about how her life since the '92 games, saying,
Winning the gold opened up a lot of opportunities, other challenges that I wanted to take on and do in my life," she said. "The first thing was touring and being able to make a career out of my sport, skating as a professional for 10 years and enjoying that. Beyond that, it was having the opportunity to start my foundation and give back, which was something important for me and my family. I've enjoyed taking on other challenges outside of skating, even as my main focus with my life is my family.
Kristi has been chiming on the U.S. Figure Skating Championships on social media. She's even been called a mentor to fellow Bay Area-native Karen Chen. We look forward to hearing the champ's thoughts when the big games kick off in PyeongChang come February.