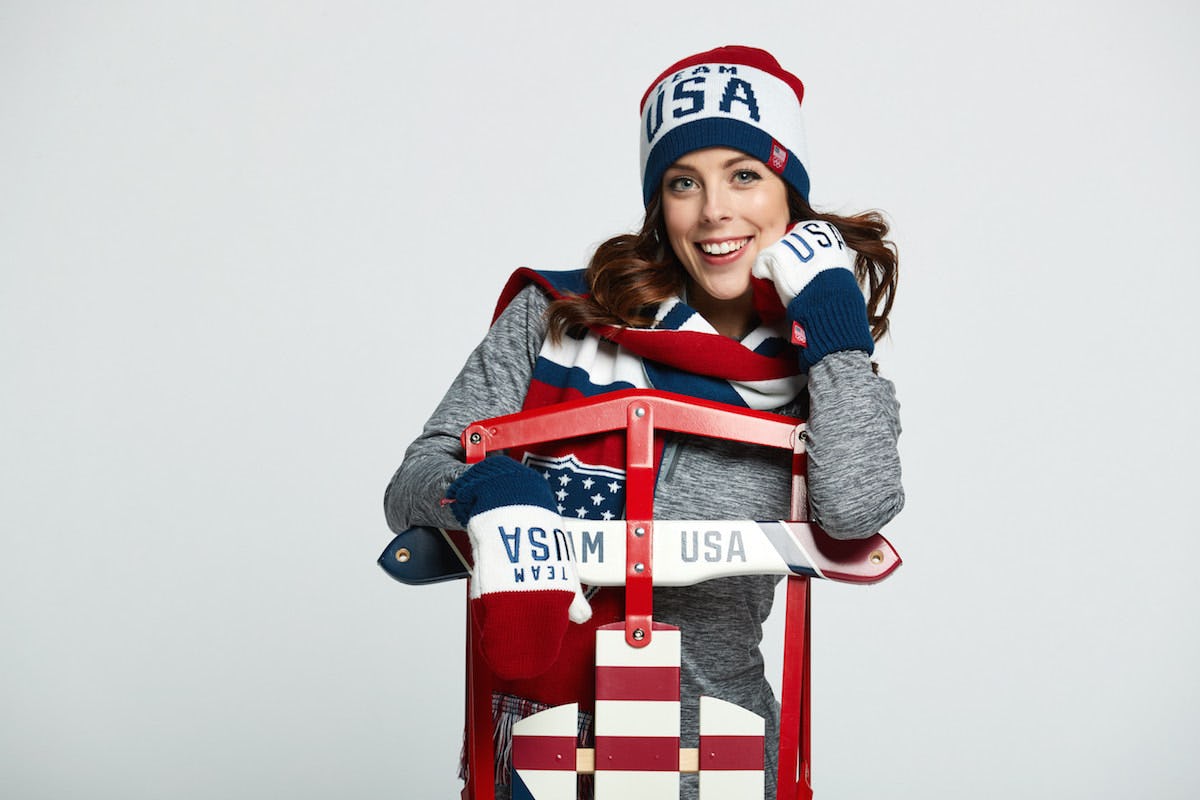 The Team USA Winter Olympics Gear Is Here & It Makes Holiday Shopping So Easy
Team USA
I think we can all agree that 2017 sucks. There are a lot of reasons for that, but if you ask me, 2017 sucks mostly because there are no Olympic Games in odd-numbered years. I know, I'm right. Thankfully, 2018 is starting strong with the Winter Olympics in PyeongChang, South Korea, which begin on Feb. 8. And if you want to be super extra about it, you can actually now get the Team USA Winter Olympics gear for yourself — or for your Olympics-loving friends and family!
With each new Olympic Games comes a new set of official gear, and the 2018 collection looks amazing and is extremely soft, so you'll be comfortable and patriotic all winter long. Team USA is selling a scarf, beanie, and pair of mittens. They all, naturally, come in red, white, and blue, and they boast a knitted "TEAM USA." The gear comes in "one size fits most" and can be machine washed. You can get the pack of scarf, mittens, and beanie for $49.99 or you can get them separately.
To make you feel better about buying things, these products actually are helping Team USA. The U.S. Olympic Committee, as an organization, is a non-profit. Portions of proceeds from these sales will go to help the athletes going to PyeongChang and will help future Olympic hopefuls. So you'd be helping to bring the inspiration. Here's skier Ted Ligety geared up:
Competition in PyeongChang, South Korea, is starting on Feb. 8, and the opening ceremony will be held on Feb. 9. Although, I know, it feels so far away, the drama and inspiration is already starting. On Tuesday, Dec. 5, the International Olympic Committee (IOC) announced that Russia is banned from the games following an investigation into a state-backed doping scandal. Some Russian athletes can still compete if they are invited, but they'll be playing in neutral uniforms and without the playing of the Russian anthem, should they medal.
On the lighter, more inspirational, side of Olympic news, the Nigerian female bobsled team became the first athletes from Nigeria to qualify for the Winter Olympics last month. They swiftly went viral because, while competing, they looked amazing... and had some great dance moves.
And if you're wondering which American athletes you can cosplay as in your new Team USA gear, there are plenty of people to choose from.
First of all, there are going to be a ton of seriously amazing female athletes to watch in 2018. I, personally, am keeping an eye out for Ashley Wagner (that's her in the picture way up top). Wagner is a figure skater who's been killing it for years and is heading towards PyeongChang with fire. Also on the ice, there are the ShibSibs — Maia and Alex Shibutani. These siblings compete together in ice dancing and are awesome to watch.
Meanwhile, the Winter Olympics are also full of wild winter sports filled with eye-popping tricks, like slopestyle snowboarding and skiing. If that's what you're into, you should look out for Maggie Voisin (skiing) and Jamie Anderson (snowboarding).
Chloe Kim, 17, is a star in snowboarding halfpipe, and Jessie Diggins, 26, is super fast in cross-country skiing. Here Diggins is in the Team USA gear:
Over on the male side, you can look out for Gus Kentworthy, the skier who you might remember as the cutie who adopted a bunch of puppies during the Sochi 2014 games. You should also keep your eyes peeled for speedskater J.R. Celski and figure skater Nathan Chen. The U.S. men's hockey team will also be interesting since the NHL decided that their athletes will not be competing.
There's a lot to get excited for as we get closer to February, and I know I can't wait to see how it all goes down. In the meantime, we've got these sweet scarves to keep us warm through the wait.
Learn more at Teamusa.org. The Winter Olympics begin Feb 8.