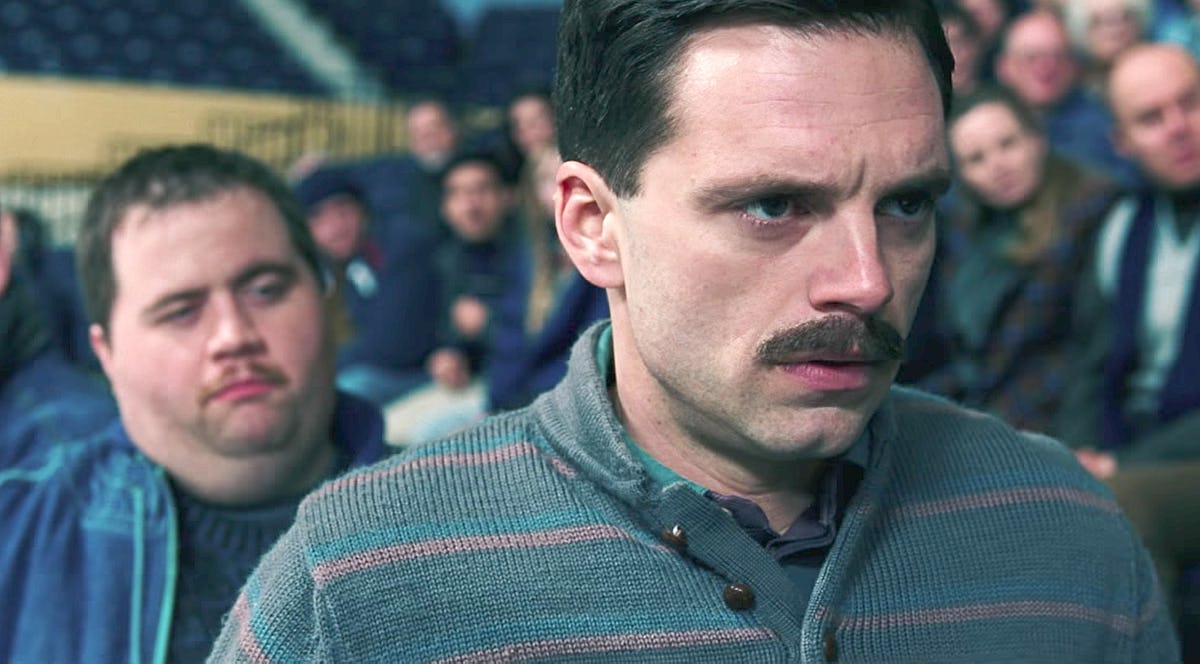 Jeff Gillooly, The Husband From 'I, Tonya,' Doesn't Even Have The Same Name Anymore
Neon
Since the release of the 2017 film I, Tonya, fans have been extremely curious about figure skater Tonya Harding's life — especially the real-life events and people involved in the attack on her skating rival, Nancy Kerrigan. One of the main questions that comes up from this topic is about Harding's ex-husband, Jeff Gillooly, and where he is now. It turns out, he and Harding have since parted ways, but he did have some involvement in the movie about her life.
In fact, the real Gillooly met with the actor who portrays him in the movie, Sebastian Stan. Here's how Stan remembers the encounter with Gillooly, according to an interview with Entertainment Weekly: "He picked the restaurant, so we went there, we sat down, and the first thing he said to me was, 'So… why would anyone want to do this?' Like, 'Why would you want to do this? Why would you want to be in this movie?'"
Stan continued his recollection of the meeting: "I was like, 'Oh! Well, uhh, you know, the script was really great, and it's such a wild story,' and then I remember him saying something like, 'Yeah, but no one's ever gonna want to see this. No one's ever gonna pay attention.'"
Clearly, that prediction did not pan out. Not only was I, Tonya a box-office hit, grossing $30 million in the U.S., but it was also recognized during the 2018 award season in a big way, with nominations (and wins) for the Academy Awards, the Golden Globes, and the SAG Awards.
What Did Jeff Gillooly Think Of I, Tonya?
Gillooly ended up having at least some positive feedback about Stan's portrayal of him as a character. Stan told Entertainment Weekly Gillooly was particularly fond of the fictional Gillooly's looks. "I think he saw a picture of me as him with the mustache, and he wrote to me and he said something like, 'Well, nice mustache! You might bring that into fashion, something I never could have done,'" Stan said.
Where Is Jeff Gillooly Now?
As I, Tonya portrayed, Gillooly and Harding (played by Margot Robbie) started dating in 1986, when they were 17 and 15, respectively. They got married in 1990 and divorced in 1993, but, as the movie also showed, they stayed connected with one another after the split. In 1994, Kerrigan was struck in the leg by a police baton, months before the 1994 Winter Olympics. Gillooly was among five defendants who were charged with conspiring to injure Kerrigan, and was sentenced to two years in prison. Ultimately, Gillooly served just a fraction of his sentence and was released after six months.
Upon his release, it seemed Gillooly seemed to want to put his past behind him. A 2014 report from Deadspin revealed Tonya's ex-husband changed his name to Jeff Stone after getting out of prison in 1995. As of 2017, he was living near Portland, Oregon.
The Deadspin report also contained a number of details about Stone-née-Gillooly's life since the Kerrigan incident. In 1995, Stone married a woman named Nancy Sharkey and the couple had two kids together. They divorced in 2000; in 2005, Sharkey died by suicide. Gillooly remarried in 2012, and per Deadspin, as of 2013, he lived with his wife Christy Novasio and the two children he had with Sharkey.
But Stone didn't fully fade into anonymity after his prison sentence. Besides conspiring to injure Kerrigan, who would ultimately go on to win a silver medal at the 1994 games while Harding placed eighth, Gillooly's scrutiny under the spotlight ultimately led to allegations of abuse and rape. In 2008, Harding published a book called The Tonya Tapes, consisting of interviews she'd given in the past. In the book, she claimed both her ex-husband and two others raped her and demanded she stick to their version of the Kerrigan story while the attack was being investigated back in the '90s. No legal action came from this revelation, and Stone denied it ever happened, telling Today back in 2008 the claims were "utterly ridiculous." In the 2013 interview, Stone doubled down on this, telling Deadspin he "laughed about" the accusation.
Does Jeff Gillooly Regret The Nancy Kerrigan Incident?
Also in the Deadspin interview, Gillooly answered a question he said he is often asked about looking back on the Kerrigan incident in hindsight:
The most common question I'm ever asked, if it comes up, 'Do you regret what you did?' I guess that's kind of a yes-and-a-no question. Yes, it was pretty darn stupid. It was pretty ridiculous. But in the same instance, I'm a big believer in how you lay out your life and how each step you take, each opportunity you use — whether for good or for bad — kind of leads you down the road. I'm real happy with my life, I'm real happy with the way it's turned out. I've got two beautiful kids with my ex-wife and I've got a lot of good friends. What's there to regret? Not much.
If you or someone you know is experiencing domestic abuse, call 911 or the National Domestic Violence Hotline at 1(800) 799-SAFE (7233) or visit thehotline.org. If you or someone you know has been sexually assaulted, you can call the National Sexual Assault Telephone Hotline at 800-656-HOPE (4673) or visit online.rainn.org.
This article was originally published on