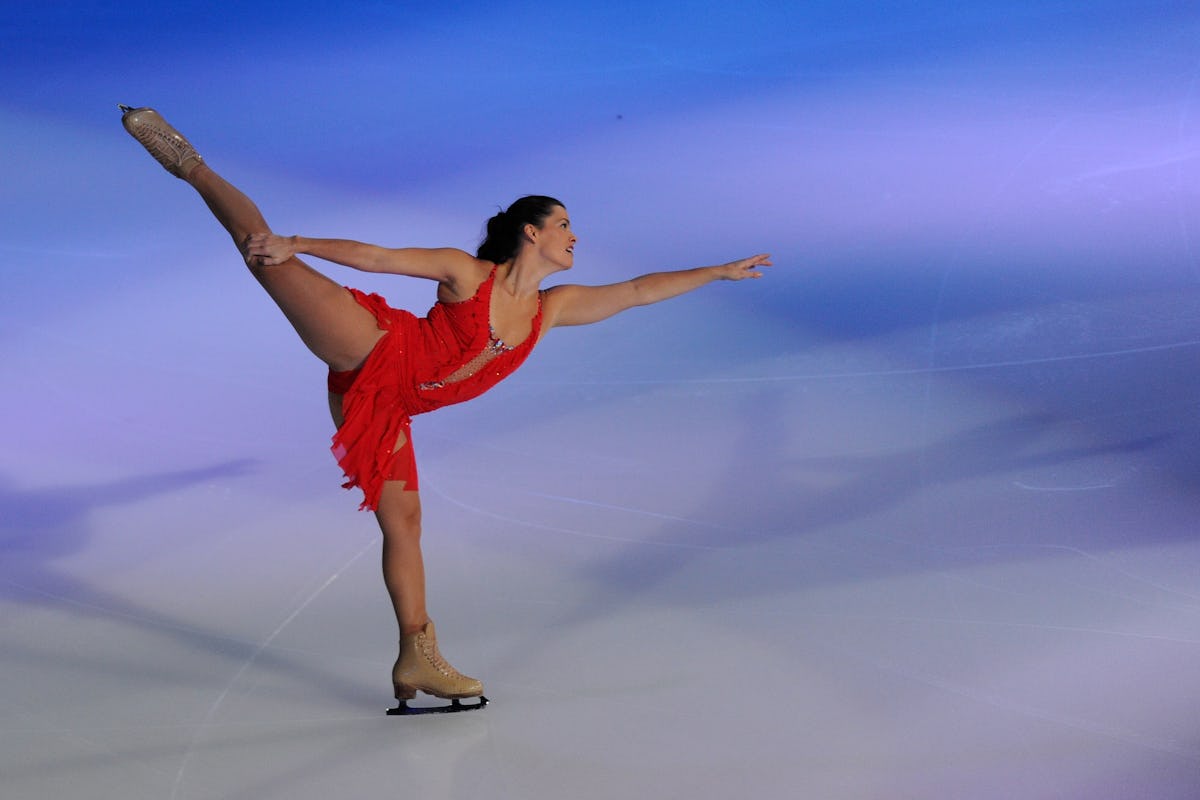 The Tonya Harding Scandal Doesn't Seem To Have Stopped Nancy Kerrigan
Maddie Meyer/Getty Images Sport/Getty Images
All eyes are back on a 1994 figure skating scandal with the release of the movie I, Tonya, starring Margot Robbie. The new biopic centers on Tonya Harding, the legendary skater whose career has been shrouded in controversy ever since her former rival, Nancy Kerrigan, was assaulted. So where is Nancy Kerrigan now, after the scandal?
In 1992, America's skating sweetheart Kerrigan won the bronze medal at the Winter Olympics in Albertville, France, and the silver medal at the World Championships. But far and away her most notorious victory came in 1994, when she took home a silver medal for her performance against all odds. Since then, she's been wearing a variety of hats, in addition to being a sports icon and a mother. But first, let's do a refresh on what happened between Tonya Harding and Nancy Kerrigan.
What was the scandal?
It was over 20 years ago, so don't worry if you're struggling to remember the infamous skating scandal (or weren't alive for it).
In January 1994, according to New York Times archives, Kerrigan was injured at a practice in Detroit for the U.S. figure skating championships when an unknown man clubbed her in the knee. The attack happened just before the qualifiers for that year's Olympics, at which Kerrigan was favored to win gold, and it was unknown at the time whether she'd be able to compete that year. A doctor treating her said whoever attacked Kerrigan "was clearly trying to debilitate her."
It was discovered that Harding's ex-husband, Jeff Gillooly, had hired a hitman to literally try to take Kerrigan out of the game and keep her from making the Olympic team. In a 2013 interview with Deadspin, Gillooly said his involvement "was pretty darn stupid." Per Newsweek, Gillooly had conspired with Shawn Eckardt (who claimed to be Harding's bodyguard) to hire a man named Shane Stant to carry out the attack, roping in a man named Derrick Smith as the getaway driver. Gillooly claimed the plan wasn't originally to cause any physical harm to Kerrigan — just to scare her out of the competition.
But one way or another, the confrontation ended with a club to the knee, and Harding and Gillooly blamed each other.
Per the Times, Eckardt, Stant, and Smith were sentenced to 18 months in prison with no fines; Eckardt for racketeering, and the latter two for conspiracy to commit second-degree assault. Gillooly was sentenced to two years for racketeering. Gillooly's sentence was reduced thanks to a plea bargain in which he offered testimony against Harding, implicating her in planning the attack. Harding denied her involvement in the attack, saying, "I had no prior knowledge of the planned assault on Nancy Kerrigan. I am responsible, however, for failing to report things I learned about the assault when I returned home from Nationals."
But, as the Washington Post reported at the time, Harding was stripped of her medals by the U.S. Figure Skating Association. Hearing panel chairman William Hybl told the Post, "By a preponderance of the evidence, the five members of the panel concluded that she had prior knowledge and was involved prior to the incident," based on civil, not criminal, standards. According to People, Harding was convicted of hindering the investigation, and was given 500 hours of community service, a fine of $160,000, three years of probation, and was ultimately banned from the Association.
Kerrigan, making a miraculous recovery, won a medal just weeks later at the 1994 Olympic Games. Harding didn't get a medal at that Olympics. And if Kerrigan has been slowed down by the scandal, she's not letting it show. The former figure skating champ has been keeping busy.
What's Kerrigan up to now?
Kerrigan, 47, was inducted into the Figure Skating Hall of Fame in 2004 and has served as a special correspondent to various Olympic events. She also competed on the TV show Dancing With The Stars earlier this year, making it to the seventh round of the season.
Kerrigan has also appeared on other TV shows and movies (Blades of Glory, anyone?), written a book, and worked as a motivational speaker, sports commentator, and product endorser.
In an interview with ABC around her Dancing With The Stars appearance in spring 2017, Kerrigan told Juju Chang, "It's fun to do something new, to have a new challenge, I thought it'd be really exciting."
Kerrigan, when asked if she ever got an apology from Harding over the assault, said no. But it doesn't seem to be holding her back. "It's sad. It's almost like somebody else at this point," Kerrigan said.
In 2009, Oprah Winfrey asked Harding what she'd want to say to Kerrigan if she could. Harding said she'd want to give her former rival a hug and "tell her how proud I am of her being able to go forward with her life."
When Chang asked Kerrigan how she'd respond to that, she said she wasn't sure. But Kerrigan, if anything, has seemed to draw upon her past experiences as she moves forward. Her latest venture: a full-length documentary.
The media storm that followed Kerrigan after her attack, she says, inadvertently caused her to adopt disordered eating habits, and she lost 15 pounds. This in part inspired Kerrigan to spearhead a documentary called Why Don't You Lose 5 Pounds?, which explores the connection between athletes and eating disorders in "lean sports," such as figure skating, gymnastics, and ballet.
"This is an important topic that goes largely under the radar," Kerrigan, who is executive producing the film, says. "I have seen this issue rear its head as an athlete and now see it as the mother of a young gymnast and ballerina."
Meanwhile, the real-life Harding turned heads when she made a surprise appearance at the premiere of I, Tonya, joining Robbie on the red carpet. The film is up for three 2018 Golden Globe Awards, including Best Picture.