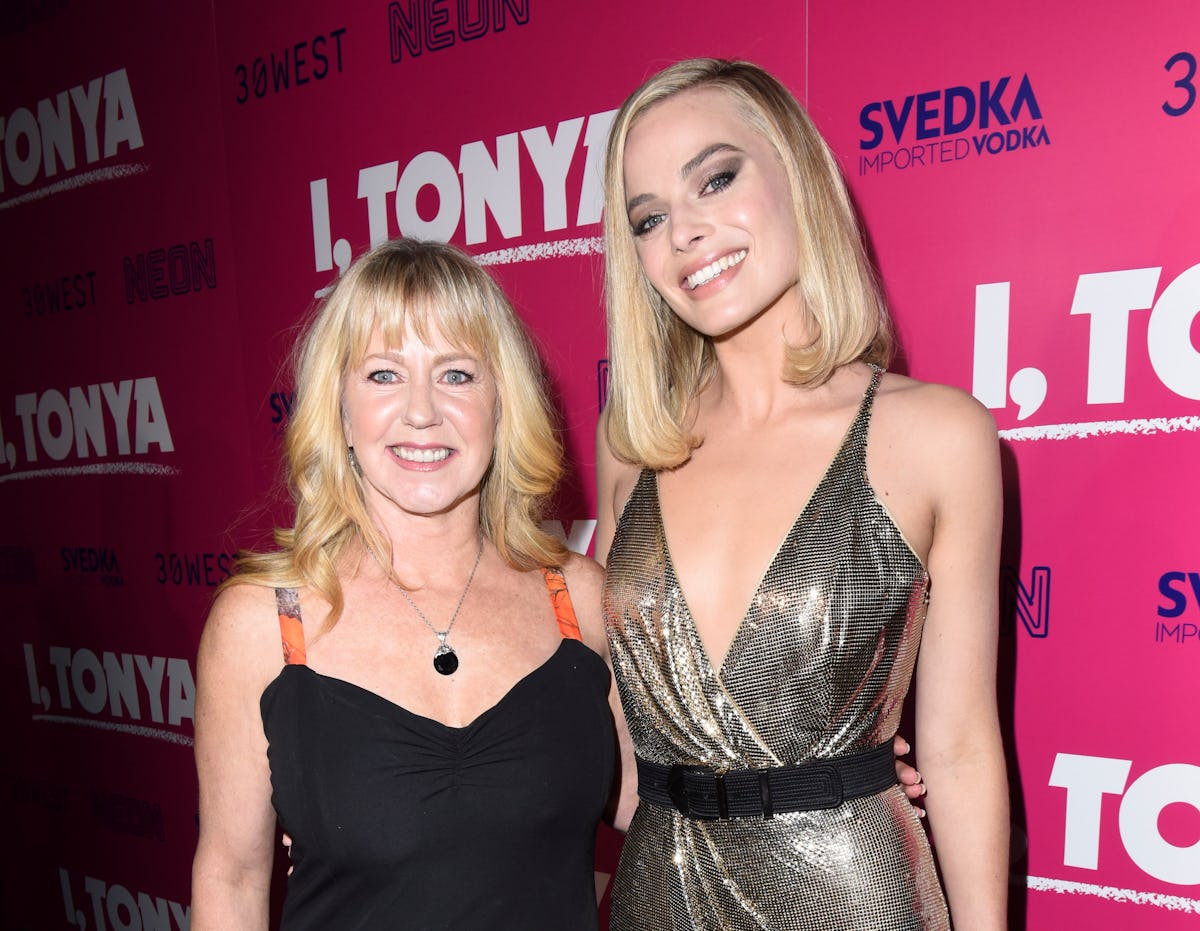 Here's Where Tonya Harding Is Now If You're Curious After Seeing 'I, Tonya'
Vivien Killilea/Getty Images Entertainment/Getty Images
On Tuesday, Dec. 5, former figure skater Tonya Harding made headlines when she attended the premiere of I, Tonya, along with Margot Robbie, Allison Janney, and Sebastian Stan. The release of I, Tonya and Harding's appearance on the red carpet have left the public wondering: Where is Tonya Harding now? Having been too young to remember Harding's story and the media frenzy that followed, Robbie — who plays Harding — researched interviews and footage of the athlete, explaining that she "wanted to see her as a character instead of replication her as a person." Then, a week before filming began, Robbie visited with the athlete.
For those who may not know about Harding, allow me to explain. In 1991, when Harding was 20 years old, she won the U.S. figure skating championships and became the World Championship silver medalist, according to New York Times. During her time as a figure skater, Harding broke a number of records. She became the first American woman to perform a triple axel in an international skating event, and the first ever to complete a triple axel combination with the double toe loop. Harding was at the top of the U.S. women's figure skating food chain — but following these feats, her skating abilities declined, and she was unable to perform at her previous skill level again. Naturally, this hurt her career, which had already been rocky due to her unconventional style and attitude.
All of these disappointments culminated at the 1994 U.S. Figure Skating Championships when Harding's primary competitor, Nancy Kerrigan, was attacked and forced to withdraw from the competition, which Harding wound up winning, Sports Illustrated reports. It was later found that the assailant had been hired by Harding's ex-husband, Jeff Gillooly, and her bodyguard, Shawn Eckhardt. The two served jail time for their involvement after being convicted of conspiring to assault Kerrigan, as did the assailant and getaway driver. Harding claimed to have had no prior knowledge of the attack, but was sentenced to three years probation, 500 hours of community service, and a $160,000 fine after pleading guilty to hindering prosecution of the attackers, New York Times reports.
She was also stripped of her 1994 U.S. Championships title and banned for life from participating in United States Figure Skating Association events as a skater or coach. The incident was widely covered by media, and as a result of both the negative coverage and her alleged involvement, Harding was virtually shunned from the professional figure skating circuit.
Harding certainly paid a price for the incident, although she has steadfastly maintained her innocence. The excitement that initially surrounded her career helped launch competitive figure skating into the mainstream, but because of the fallout from the attack, she was unable to participate or profit off of it. In attempting to get back on her feet, Harding had a brief boxing career and a couple of entertainment gigs. She was also arrested twice and, according to a profile by People, once attempted suicide.
Thankfully, today, Harding seems to be in a much better place, at least according to Robbie. When discussing their visits, the actress told Vanity Fair that Harding "so evidently loves her husband and her kid" and has "found her place now and become a good mother." This is a stark contrast to Harding's allegations of past abuse, which include rape by Gillooly — which he denies and claims is "ridiculous" — and mental and physical abuse by her mother, LaVona Golden, from whom she has since become estranged. According to Newsweek, Steven Rodgers, the screenwriter of I, Tonya, was unable to locate Golden for comment. Despite all of the hardships that came with her skating career, Harding says that she does still figure skate for fun and can still perform the triple axel.
With the release of I, Tonya, those who remember the scandal have begun to question if Harding deserved the level of backlash she received, and if she was misjudged and mischaracterized by the media. In fact, Harding received a standing ovation following the Los Angeles premiere of the film.
Harding has made a couple of attempts at portraying her side of the story, including a memoir called "The Tonya Tapes." She also did an interview with Oprah Winfrey in 2009 and appeared in the ESPN 30 for 30 documentary "The Price of Gold." Other than these projects, Harding has primarily kept to herself, determined to move on with her life. She has also expressed admiration for Kerrigan's ability to do the same.
I, Tonya is now playing in theaters.