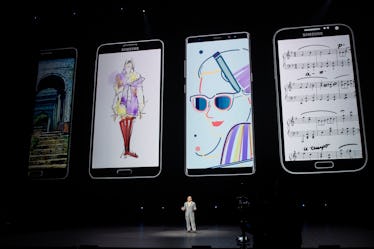 Finding The Midnight Black Galaxy Note 9 Won't Be As Hard As You Think
Drew Angerer/Getty Images News/Getty Images
I love a pop of color, which is why most of the phones I've owned throughout the past few years have boasted vibrant shades. After being introduced to the Galaxy Note 9, I'm excited to explore even more color options. The new phone — which was unveiled at a Galaxy Unpacked event on Aug. 9 — was made in four gorgeous hues. They include Ocean Blue, Lavender Purple, Metallic Copper, and Midnight Black. However, only two shades are available on Samsung's U.S. website (Ocean Blue and Lavender Purple). If you'd rather stick to the basics, you might be wondering, "Where can I get the Midnight Black Galaxy Note 9?" Thankfully, you have quite a few options.
TBH, I'd be perfectly content settling for an Ocean Blue or Lavender Purple phone — but that's just me. I totally understand why people would rather buy a neutral-colored device, because it'll match every outfit you own (#priorities). Anyway, Elite Daily reached out to Samsung and asked where customers can buy the Midnight Black Galaxy Note 9, and it turns out that the color is available in eight countries. Those lucky countries are as followed:
Canada
India
United Kingdom
Italy
France
Belgium
Brazil
Latin America
You know what that means, right? It's time for a mini vacation. Get your passport ready and prepare to travel the world in pursuit of a Midnight Black Galaxy Note 9.
Now, you're probably wondering why you need to travel far and wide in order to find the phone color you desire. Why are only two shades available in the United States, anyway? Elite Daily reached out to Samsung when the Galaxy Note 9 phones became available for pre-order, and inquired about the missing color options. The company confirmed that only Ocean Blue and Lavender Purple are available in the country, but made it clear that more options will be launched in various global markets in the future. So, if the countries listed above are too far for you, wait and see if Midnight Black will be launched in a region that's more convenient.
Midnight Black isn't the only neutral color option available, though. The Galaxy Note 9 will also be available in Metallic Copper, which is a great choice for customers who want to add a little "bling-bling" to their technology collection. Unfortunately, the Metallic Copper option isn't available in the United States, either. In fact, it'll be even harder to find than the Midnight Black Galaxy Note 9.
After reaching out to Samsung to find out where customers could buy the Metallic Copper phone, Elite Daily found out that it's only available for pre-order in India right now. I know, that doesn't give you many options — but if you have your heart set on the hue, why not plan a trip? Heck, make a vacation out of it. Then, you'll splurge a little bit for a brand new Metallic Copper Galaxy Note 9 and treat yourself to a mini getaway.
Of course, traveling across the globe for a phone color is a little extreme. Why not give the Ocean Blue or Lavender Purple a try? You have nothing to lose.