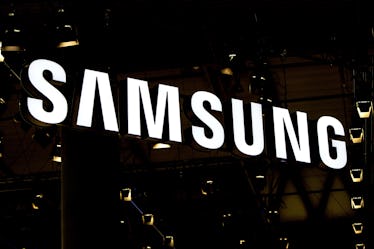 If You Want The Metallic Copper Galaxy Note 9, You Have To Travel To This Country
David Ramos/Getty Images News/Getty Images
If you're an Android user, you're probably stoked about Samsung's upcoming devices. The company announced its new products during a live Galaxy Unpacked event on Aug. 9, and this new lineup of gadgets will get you so pumped. Out of the new selections, I'm mostly drawn to the new Galaxy Note 9. Not only is the device powerful, but it's also pretty to look at. According to Samsung's presentation, the phone was made in four colors, but only two exist on Samsung's U.S. website (Ocean Blue and Lavender Purple). The lack of color selections might leave you asking, "Where can I get the Metallic Copper Galaxy Note 9 phone?" Luckily, I have answers.
Elite Daily reached out to Samsung and asked the company where customers could buy the Metallic Copper Galaxy Note 9, and it turns out that it's only available in India at the moment. So, if you wish to buy the new Galaxy Note 9 in Metallic Copper, you'll have to take a trip to India. It's a bummer that the color isn't available in the United States, but at least this gives you the opportunity to see another country.
Go ahead and pack your bags; the smartphone of your dreams is waiting for you.
In case you missed the Galaxy Note 9 craze at the beginning of August, I'll fill you in. When the company announced the new device, it said that the phone was made in Ocean Blue, Lavender Purple, Metallic Copper, and Midnight Black. After checking Samsung's pre-order page, it's obvious that only Ocean Blue and Lavender Purple exist in the United States. Elite Daily reached out to Samsung at the time and inquired about the missing colors, and they confirmed that only Blue and Purple are available in the country. However, the company is working on launching all colors in various global markets (including India, obviously).
If you don't have the funds to get to India for your new Metallic Copper phone, you'll have to settle for Ocean Blue or Lavender Purple. I don't know about you, but I think those color options are gorgeous.
The Galaxy Note 9 has much more to offer than color, though. Its screen is the largest offered on a Galaxy Note (at 6.4 inches), and it comes with an S Pen that'll help you navigate the touchscreen without leaving fingerprints all over your screen. The camera is also super impressive and boasts scene recognition, which will help enhance your photos based on location. Not to mention, the storage options available on the Galaxy Note 9 are monumental. Right now, Samsung has a 128GB phone for listed for pre-order, as well as an extremely powerful 512GB phone.
If you're planning on taking a trip to India to acquire the Metallic Copper Galaxy Note 9, you should probably know how much it costs. If you're going to buy the 128GB device, you'll have to pay $999.99. The 512GB phone, on the other hand, will cost you $1,249.99. Add that price onto your trip, and you'll be spending a pretty penny for the sake of getting the phone color you want.