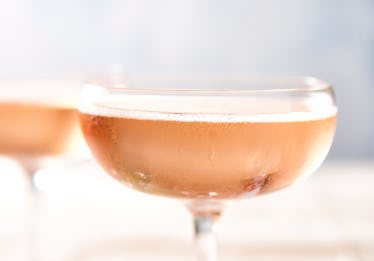 This Frosé Sorbet By The Pint Is A Perfect Summertime Snack & I'm So Hyped
Everyone stop what you're doing right now, because I have the most important news of the week to share with you. Been longing to spend bright sunny days outdoors enjoying something sweet and cold? Me too. Well our prayers have been answered, because summer's ultimate cocktail is taking an interesting form this summer. Where can I buy Frosé sorbet? I'll see y'all in the grocery store line.
Because your favorite boozy summertime treat is now available in the supermarket. According to Delish.com, frosé sorbet is the latest addition to Jeni's Splendid Ice Cream brand. The pint will cost you $12, but I'm embarrassed to admit the amount of money I would drop if it meant I could dig into that sorbet, especially hearing what it tastes like.
The frosty treat is a fruity blend of strawberries, blackberry jam, and lemon zest along with small tasting notes of pear, watermelon essence, and lemon juice. Yum. And yes, it is real frosé — the list of ingredients includes "rosé wine," though it doesn't say the official final alcohol percentage. But hey, there are other options around. According to the Jeni's Splendid website, the sorbet is best paired with "sparkling wine, a shot of tequila, or even more rosé."
Hello yes. I'll take all three please.
No need to stand in those outrageous lines to cop this tasty treat. Jeni's Splendid Ice Cream has 10 stores across America including Atlanta, Cleveland, Los Angeles, Charleston, and Washington D.C. Don't live in those cities? Never fear. All of Jeni's flavors are available via its online shop and in grocery stores across the country. Make sure to check and see if your store stocks these goodies.
I don't think I'm exaggerating when I say this might be the best news I've heard all week. Actually, scratch that. This is definitely the best news I've heard all week.
I'm personally shocked that it took so long for this idea to become a reality. How have I lived so long without having frosé sorbet in my life? It's a well known fact that rosé is the official elixir of summer, and with good reason. Its Instagram-worthy millennial pink color and delicious bubbly taste is the perfect refreshment to sip on a warm rooftop at night or poolside during the day.
So for those looking for a pairing for the frosé sorbet, there's a few equally aesthetically pleasing options to choose from this summer. Nauti Rosé is dropping a rosé seltzer, which is similar to a Smirnoff Ice or Lime-a-Rita. Or, you can sip on Strongbrow's rosé hard cider, which is a gluten-free apple flavored beverage.
All pink everything.
Why are we so obsessed with millennial pink? It's not just about how delicious rosé is (though it doesn't hurt). Besides it being so damn pretty, it's also a gender-bending color. Throughout history, the color pink has been associated with femininity, but according to an article written by Lauren Schwartzberg of The Cut on March 22, 2017, millennial pink is much more "androgynous."
That might be true, since it looks like everyone sported millennial pink in some way or another during 2017, but the attraction to the color might just be because of the aesthetic. Elite Daily spoke to fashion historian Jonathan Square on March 31, 2017, about the popularity of millennial pink, and whether it's about androgyny or just a popular trend.
He said,
Colors have their moments. When I was a kid in the '90s, it was neon orange-yellows and hot pinks, which didn't represent anything back then. I think that fashion does have something to do with politics and cultural evolution, but we seem to be overreaching. Yes, there are men wearing pink confidently today. They could be thinking about androgyny, but they might just be wearing it because it's hot.
Well, whatever the attraction is, I'm definitely buying in. If you need me, I'll be snacking on some sorbet while napping on my flamingo pool float.
Cheers, y'all.