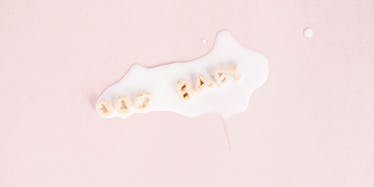 Everyone Claims 'Millennial Pink' Is A Trend, But They Forget One Major Thing
Imagine this: A 22-year-old woman storms into Topshop. Phone in hand, she frantically searches for a sales associate.
Across the store, the 20-something spots a chicly dressed young man wearing a name tag and sprints to his side.
She shows him her phone and asks, "Have you ever seen this color? I have to have it."
The color? Pink — Millennial Pink.
Recently The Washington Post, The Guardian, New York Magazine and other publications have weighed in on what they believe to be the hot new trend — a mix of dusty rose and and baby pink, the color associated with Generation Y.
Suggesting it has to do with this generation's acknowledgment of gender fluidity, these sources believe this shade of pink has to do with the rejection of overtly feminine ideals.
Lauren Schwartzberg of The Cut wrote,
For one thing, with Millennial Pink, gone is the girly-girl baggage — now it's androgynous.
And as millennials, we can tell you: It's not that serious, guys.
Elite Daily talked to Jonathan Square — fashion historian, lecturer at the University of Pennsylvania and soon-to-be PhD graduate of NYU — to figure out if Millennial Pink something bigger. He said,
There is some validity to what they are saying. We are going through a gender-fluid zeitgeist. Yes, there are more than two genders, there is a whole array of them. But it's not really fair to say that my pink sweatshirt is representative of something larger.
There is a good deal of evidence to support that pop culture has a lot to do with the explosion of pink on the scene, but it's important to remember that this pink tone has been around for a while.
"This shade of pink wasn't invented three or four years ago," Square explained. "Look at rapper Cam'Ron's music video from 2002."
Then Kanye did it, donning his notorious pink Polo shirt from his 2004 "All Falls Down" music video.
And of course, Drake did it last year for "Hotline Bling."
Square's alternative explanation: It's an aesthetically pleasing color. He continued,
Colors have their moments. When I was a kid in the '90s, it was neon orange-yellows and hot pinks, which didn't represent anything back then. I think that fashion does have something to do with politics and cultural evolution, but we seem to be overreaching. Yes, there are men wearing pink confidently today. They could be thinking about androgyny, but they might just be wearing it because it's hot. 
Something commonly noted in the "Millennial Pink" articles is that Pantone's color of 2016 was Rose Quartz, and Wes Anderson's pink "Grand Budapest Hotel" from 2014 kickstarted the trend.
But what everyone chooses to ignore is Pantone — called "the global authority on color" by The Guardian — named two colors of 2016.
The other is called Serenity, a very prevalent, similarly-toned blue, also found in "Grand Budapest Hotel."
And to Square, these examples do prove something about millennial preferences, just not what anyone has said: The hot colors are simply pastels.
No one has been using the word 'pastel.' That's been completely absent from the conversation.
Previously confined to the summer months, pastels are the real generational obsession here.
Fall, winter, spring and summer you will find millennials rocking ice blue, dusty rose, lilac, muted yellows simply because it's stars like Rihanna, Zendaya and Kim Kardashian who are dictating fashion rules.
Now that publications have decided to give the trend a name, it's going to die very quickly, according to Square. He explained,
There is a certain visual language that we are all apart of when we buy clothes. It's a silent understanding. Once it's named, then the trend is over. Once it's named, people can monetize it. Millennial Pink has jumped the shark.
So unfortunately, if you didn't know about it until now, it's too late.
Citations: Why Millennial Pink Refuses to Go Away (New York Magazine)