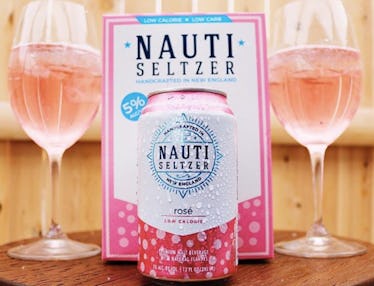 Rosé Hard Seltzer Exists & It'll Be Your Go-To Brunch Drink This Summer
With summer coming in just a few short months, there is nothing I'm looking forward to more than lying outside in the sunshine while reading a book — and, of course — drinking a refreshing glass of rosé. But if you're looking for a bigger and bubblier buzz, our new favorite beverage company, Nauti, just created a drink that's sure to up the ante for all upcoming summer hangouts. In case you were wondering, here's where to buy rosé seltzer by Nauti so you have the ultimate warm weather drink.
Nauti Rosé is technically considered to be a malt beverage, according to Nauti's online press release, which is like other drinks you might recognize like SpikedSeltzers, Lime-a-Rita's, and even Smirnoff Ices. However, rather than being made up of a mix of seltzer and wine, Nauti added typical rosé flavors like mandarin orange, peach, raspberry and cherry to already-made hard seltzer. Each 12-ounce can, per the release, comes in a six-pack, and the best part is that it contains five percent alcohol. So aside from looking ten times classier, you'll be buzzing even harder than your light beer-drinking counterparts.
The innovator of this fantastic creation, Nauti, is owned by Craft Cocktail Company in Westminster, Massachusetts. They typically stick to selling their products throughout the New England area, but definitely make a point to check out their online store locator in case there happen to be any vendors in your neighborhood. You could end up being pleasantly surprised.
In the press release announcing the new Nauti Rosé, Craft Cocktail Company's president, Christian McMahan, said that they created the product in an effort to capitalize on the trendiness of rosé wine... and TBH, they totally nailed it with this one.
McMahan said in a statement,
The rosé wine category has been on an unprecedented 5-year run. It has transcended the wine category and has become a cultural icon of fun. We wanted to offer a new, convenient alternative for rosé drinkers to extend those occasions where they can enjoy the flavor of rosé.
After tearing through your Nauti Rosé six-pack, make a point to check out Strongbow's Rosé Hard Cider, appropriately called Rosé Apple. If you have not yet gotten the chance to indulge, it's a lovely gluten-free hard cider which sports the classy aesthetic rosé wine... minus the wine glass. It's said to be refreshing, light, and fruity, resembling the taste of apple and pear, and it actually has 50 percent less sugar than other hard ciders. It's a bright shade of pink (so it's obviously, it's super Instagrammable), and it also happens to have an impressive five percent alcohol content. So cheers to that, y'all.
There's a chance that you're looking for something rosé-flavored that'll somehow manage pack a slightly stronger punch... in which case, you should probably take a look at Hangar 1's totally legit rosé vodka. Lacking the nasty artificial flavorings that plague most flavored vodkas (if you've ever had birthday cake vodka, you definitely catch my drift), it somehow actually manages to evoke a natural rosé aftertaste. It's made by combining distilled vodka with Northern California rosé, and TBH, it's all I really need in my life right now.
So in case you weren't already entirely sure about my drink lineup this summer, it'll most definitely kick off with a Nauti Rosé six pack. On a hot day, there truly is nothing better than a can of seltzer, and also a hefty glass of rosé... so when they come together, it's kind of a big deal. It might just be the best thing to hit 2018 thus far. But in all seriousness, if you need me, I'll be in the sunshine rosé-ing all day.