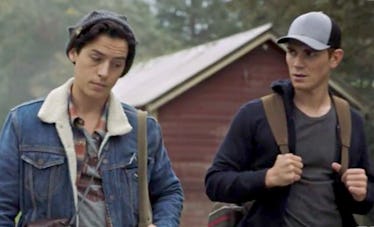 Here's Where 'Riverdale's Main Characters May Be Headed After Leaving Town
CW
After a week away, Riverdale came back on Wednesday night with a doozy of a new episode... and you probably have a ton of questions after those last five minutes. Like is Betty going to be OK, and where are Archie and Jughead going? The cliffhanger ending teases a big first for Riverdale, and is actually giving some fans hope that a Chilling Adventures of Sabrina crossover is coming even sooner than we thought. Let's stop wasting time and dissect that shocking ending to the latest episode of Riverdale.
Spoiler alert: Do not read on if you haven't watched Riverdale Season 3 Episode 6, "Manhunter," yet. Archie Andrews may have just escaped from jail after being stabbed in the stomach, but that will not stop him from running around town to try to clear his name. The new episode saw Archie teaming up with the show's perennial sidekick Kevin Keller to try to track down the trio of Shadow Lake residents that lied about seeing Archie kill Cassidy Bullock and got him thrown into jail in the first place. Unfortunately, Veronica's sleuthing into the matter tipped off Hiram Lodge about Archie's interest in the Shadow Lake crew, and he ordered Sheriff Minetta to shoot the three boys before Archie and Kevin could get to them.
When Archie comes across the dead bodies of the Shadow Lake witnesses, he breaks down over all the death he has inadvertently caused due to his rivalry with Hiram Lodge. Even though Veronica is actually able to come through in the end with video proof that exonerates Archie, he still decides to leave Riverdale in order to avoid further conflict with Hiram. That also means Archie effectively breaks up with Veronica in a teary telephone scene. Sorry, Varchie shippers.
Surprisingly, though, Archie is not alone in his exodus from Riverdale. In the final moments of the episode, we see that Jughead is joining Archie on the journey, as we see the two walk along the train tracks out of Riverdale in an homage to Stand By Me. It is not totally clear why Jughead decided to go with Archie, but it is likely because the Gargoyle King mystery just became too much for him to handle. Prior to meeting up with Archie, Jughead discovered that his fellow Southside Serpent Joaquin had been killed seemingly out of nowhere and had a Gargoyle King symbol on his head. The death really seemed to throw Jughead, probably enough to finally scare him away from all things Gargoyle King.
But the real big question now is where Archie and Jughead could be headed. Riverdale has pretty much never left its eponymous town in its three-season history. The only exception has been a couple pop-overs to neighboring Greendale, where Ms. Grundy once made her home and where Penny Peabody forced Jughead to deliver drugs. Of course, now Greendale has a much larger significance because Riverdale's sister series Chilling Adventures of Sabrina is set there. If Archie and Jughead are going to Greendale, then we could be getting the Riverdale/Sabrina crossover episode that fans have been clamoring for very soon... like next week soon.
If not Greendale, then Riverdale will be taking us to a completely new location next week, which is just as exciting. We will find out where Archie and Jughead are going when Riverdale returns next week with this season's seventh episode, entitled "The Man in Black."