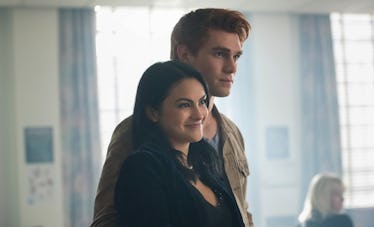 'Riverdale' Fans Think Archie & Veronica Will Break Up This Week Because Of One New Photo
CW
Every relationship has hiccups, but Archie and Veronica have been put through the ringer on Riverdale this season. I mean, when your girlfriend's dad frames you for murder, throws you in jail, and basically tries to kill you... it's not exactly ideal. But thankfully, Veronica and Archie have been reunited thanks to her jailbreak plan, although that might not last long. Fans are worried that a new Riverdale photo of Archie is teasing a breakup on Wednesday night's new episode.
Riverdale fans have been worried that Archie and Veronica may break up this season before it even began. KJ Apa teased that Archie and Veronica's relationship would be put to the test in Season 3 during interviews at Comic-Con over the summer. Initially, that seemed to be referring to Archie's lockup in juvie driving a wedge in his relationship with Veronica, but surprisingly, his stint in jail only lasted for a few episodes, and the two remained in touch and as strong as ever while he was there. So, could Veronica and Archie — A.K.A. Varchie — be headed for destruction now that Archie is out of jail? That's what fans think showrunner Roberto Aguirre-Sacasa is teasing with his most recent tweet.
Ahead of Riverdale Season 3's sixth episode, "Manhunter," debuting on Wednesday night, Aguirre-Sacasa posted a still of the episode showing Archie making a serious phone call from a train station. Aguirre-Sacases also shared the ominous message that "one phone call changes everything."
Fans were quick to flood the replies to the tweet with "#SaveVarchie" tweets, since it definitely looks like the photo is hinting at Archie breaking up with Veronica on this week's new episode. The teaser trailer for the episode reveals that Archie will enlist Kevin Keller's help to flee from Riverdale, since he is now a wanted man after breaking out of jail. Since we only see Archie asking Kevin for help in secret, he probably did not let his girlfriend know that he was going to run away... which is probably the purpose of this phone call at the train station.
It is hard to imagine that Archie will really be out of Riverdale for long, since the show revolves around his interactions with everyone in town, but it is also difficult to reasonably consider a way that Archie could return to Riverdale after breaking out of jail without getting caught and re-arrested. Either way, it definitely looks like he will be out of town for a while, and he and Veronica probably aren't going to try a long-distance relationship. Some fans are also guessing that this breakup will lead to a new relationship between Veronica and Reggie, who have notably grown closer this season after she hired him to work at her speakeasy... oh, and there's the fact that Camila Mendes and Charles Melton are dating in real life. We will have to see if Varchie really does split up in this week's new episode or not.
Riverdale Season 3 Episode 6, "Manhunter" will air on the CW on Wednesday, Nov. 28 at 8 p.m. ET.