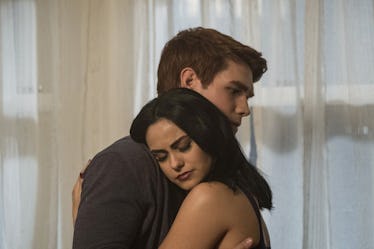 These 'Riverdale' Season 3 Details About Archie & Veronica Will Wreck You
CW
Riverdale Season 3 is in the middle of filming right now with just under half the season completed, according to showrunner Roberto Aguirre-Sacasa. But this didn't stop him from turning up for Riverdale's first ever New York Comic-Con appearance this past weekend. Aguirre-Sacasa brought along several cast members, too, including Lili Reinhart, Luke Perry, Madchen Amick, and KJ Apa, all of whom answered questions (without spoilers) on what was coming up for the new season. But the detail most worrying for fans came from Apa. Will Archie and Veronica break up in Riverdale Season 3? It may happen.
The big news this season for all the characters came from Aguirre-Sacasa, who confirmed this season would focus more on the high school problems of the four teenagers and less about mysterious serial killers and crime sprees. But there will still be mysteries to solve.
According to Aguirre-Sacasa:
One thing I think we missed in Season 2 is Betty and Jug as investigators working together to solve a mystery. I loved the first season of True Detective, which had a weird, cult-like murder mystery. I thought it would be fun to see our teen detectives in a True Detective-like plot.
But with the cares of school work come plots centered on teenage concerns. The "Core Four" are now rising juniors when the new seasons kicks off. The cast revealed they had an upcoming episode which would be all about taking the SATs, a right of junior year passage. And for high school relationships, there is breaking up and making up.
Aguirre-Sacasa suggested that Jughead and Betty would be fine since they have mysteries to solve together.
Lili Reinhart concurred: "For Bughead, so far so good."
But for Archie and Veronica, not so much. According to KJ Apa:
I don't think it's looking good for Varchie this season. I think their relationship will definitely be put to the test … Archie kind of finds himself alone this season, for a bit of it.
Not that this is the worst thing, though some fans will probably be devastated. After all, there's no getting back together if you don't break up first.
Archie may be alone for some of the season, but he's got new pursuits to pass the time. In Season 1, it was football. In Season 2, it was wrestling. Now in Season 3, Aguirre-Sacasa says Archie is going to take up boxing.
Archie is going to find himself in a situation where he is fighting for his life. KJ loves doing all the action stuff, so there's definitely going to be some boxing.
Perhaps it will be a move inspired by his father. Luke Perry, who plays Fred Andrews, revealed he gets a good lick in at one point this season on Hiram Lodge (played by Mark Consuelos).
It was alright. I'm a lover, not a fighter, but when it comes right down to it, [and I'm] defending the honor of my young man here, one did the job. Did you notice that? Just one.
The Riverdale Season 3 premiere airs Wednesday, Oct. 10, 2018 at 8 p.m. ET on The CW.