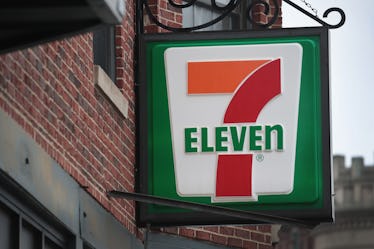 7-Eleven Has A New Slurpee Flavor Based On Your Favorite Mexican Soda
Scott Olson/Getty Images News/Getty Images
Not to be dramatic or anything, but you truly haven't lived unless you've treated yourself to the three S's of summer: s'mores, sangria, and, most importantly, 7-Eleven Slurpees. The world's greatest frozen beverages are super refreshing, perfect for cooling off, and they come in a ton of deliciously sugary flavors (I'm looking at you, Blue Raspberry). However, the chain recently debuted a new (and straight-up amazing) Slurpee flavor, and it's only sold in a select few locations. So, since you're probably wondering where 7-Eleven's Jarritos Mandarin Slurpees are available, don't worry, because I totally have your back.
In the realm of Mexican beverages, Jarritos sodas are basically the front-runner. They're the star of the show. The leading lady, if you will. There's a pretty likely chance that you've tried them at some point in your life, at a taqueria, or maybe even at a bodega, and I'm certain all of that pure cane sugar had you feeling some type of way. Anyway, once you get the chance to try any of them out (specifically the delightfully citrusy mandarin flavor), you'll probably be elated to hear that Jarritos Mandarin Slurpees have been popping up in select 7-Eleven stores for months now, according to FoodBeast. I know, it's a literal dream come true, and I can already feel the sugar rush a-comin' from miles and miles away.
I don't want to get your hopes up, though, because the Jarritos-flavored Slurpees aren't actually available everywhere. Per the brand's Instagram account, the new, tangy flavor is only available at certain 7-Eleven stores, throughout California, Florida, Texas, Colorado, the D.C. area, Arizona, Las Vegas, and parts of Pacific Northwest... so, yeah, my utmost condolences to many of you. Unless you live in any of those (very specific) U.S. locations, it's pretty unlikely that you'll be able to get your hands on one. That is, unless of course, you'd be willing to go on a little road trip with me. In the name of frozen beverages, I am totally and utterly down.
Jarritos fans are going wild over the new frozen beverage, and honestly, I completely get it. When the soda company initially announced their new signature 7-Eleven Slurpee flavor in an Instagram post, IG user @gabgabgarcia said "Holy moly!!" while @mattdludicrous said "God I hopes it at one of my 7/11s, it looks sooo good." IG user, quietstorm_55, on the other hand, commented, "yes!! i love this kind of soda i have it right now," and user wendycurtis306 said, "I HAVE HAD IT. !!!! Yummy!!!!" Clearly, fans are super pumped, and for their sake, I hope the ever-elusive flavor is available near them.
Amidst your Jarritos Mandarin Slurpee pitstop, make sure to get in on 7-Eleven's $1 Big Bite hot dog promotion. In honor of National Hot Dog day, the quick-service food joint is going to be offering $1 hot dogs on Wednesday, July 18, and it's going to be everything you could ever want. All you need is an insatiable appetite, and one (or five) one dollar bills. The promotion will only be available at participating locations, though, so make sure to check that out before you go.
Jarritos sodas are fantastic on their own, but when you start making Slurpees out of them — specifically the Mandarin flavor — it's pure genius. Few things can surpass the frozen, tangy deliciousness of a Jarritos Mandarin Slurpee, so if there aren't any sold in your nearest 7-Eleven, it looks like a road trip is definitely in store for you. There's no better way to get a brain freeze during the hottest months of the year, so you definitely won't regret it.