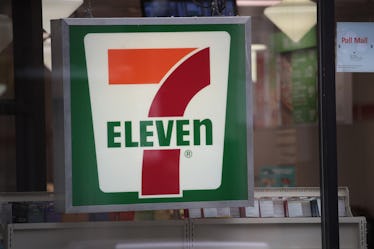 You Can Get $1 Hot Dogs At 7-Eleven, So Lunch On Me
Scott Olson/Getty Images News/Getty Images
If you're looking to score a deal on lunch, you're in luck, because 7-Eleven will be offering $1 Big Bite hot dogs on Wednesday, July 18. The convenience store is running the promotion to celebrate National Hot Dog Day. A budget-friendly deal like this doesn't come around often, so make sure you get yours while you still can. Here's how to get $1 hot dogs at 7-Eleven on National Hot Dog Day.
The dog days of summer are upon us — quite literally, thanks to this hot dog promotion from 7-Eleven. You can score a $1 Big Bite hot dog at participating 7-Eleven locations across the country on Wednesday, July 18, according to the store. The only thing you need to bring with you is your appetite and your wallet. You won't need much cash, though. Since the deal is only $1, you might as well treat your friends to a couple of hot dogs. Heck, I'm so hungry after writing about this that I will probably get two just for me.
The chain store's Big Bite hot dogs are a deal that's worth sinking your teeth into. The frankfurters are made with 100 percent beef and are sold in 1/4-pound and 1/8-pound sizes, according to 7-Eleven. To kick off the National Hot Dog Day deal, 7-Eleven is featuring "The Reaper" as its Big Bite flavor of the celebratory day. Before you chomp down on this one, you should know that the spicy hot dog is topped with the incredibly biting Carolina Reaper pepper seasoning blend.
For those who are unfamiliar with the Carolina Reaper, the pepper is "the world's hottest chill pepper," according to Newsweek. 7-Eleven calls this one "one seriously spicy dog," so you may want to grab a bottle of milk to pair with your hot dog. It will help cool your mouth down after eating this fiery snack. In addition to the Carolina Reaper spice blend, you will have the option to top your hot dog with chili, cheese, pickles, onions, jalapeños, relish, pico de gallo, and more. These toppings are free of charge (this way you can really maximize your $1 investment) and are available at the store's condiment bar.
If mouth-burning, peppery hot dogs aren't your thing, don't fret. 7-Eleven still has a handful of other franks for you to choose from. This includes your basic hot dog, so you can load it up with complimentary toppings from the condiment bar or eat it plain. Whatever you do, don't let this National Hot Dog Day bargain pass you by. Lunch for $1 anywhere is basically like eating for free, so tell your wallet to thank you later.
The one-stop-shop is no stranger to a good deal. On Wednesday, July 11 (aka 7/11), the convenience store offered their annual tradition of free Slurpees. Patrons were able to get a small Slurpee at no cost to celebrate the 7-Eleven's birthday. If only these two delicious deals could've come together on the same day, it would have been a match made in convenience store heaven.