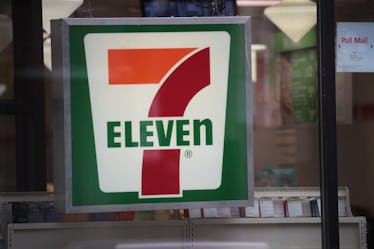 7-Eleven Is Giving Away Free Slurpees This Week & Here's How To Get One
Scott Olson/Getty Images News/Getty Images
If you're suffering from the post-Fourth of July blues, I've got some good news. Thank heaven for 7-Eleven, because the grocery chain is making its 91st birthday party one to remember in the sweetest way. That's right, Slushees are on the house this week, and you're not going to want to sleep on these complimentary sips when you learn how to get a free 7-Eleven Slurpee on Free Slurpee Day.
The annual Slurpee bonanza has been around since 2002, and it's basically Christmas for 7-Eleven devotees looking to cool off with a sugar-laced, ice-cold Slush. On Wednesday, July 11, customers can head to their nearest 7-Eleven from 11 a.m. to 7 p.m. local time to snag a free small Slurpee drink of their choosing, according to a press release. It's going to be a bonafide Slurpee party. The one catch? With an incredible steal like this on offer, you're definitely going to want to go early to beat the long lines. Per the press release, the company gives away approximately 9 million Slurpees on the holiday each year, so you're definitely going to want to plan ahead if you want to bless up on Wednesday.
In addition to the complimentary Slurpee, $1 Big Bite hot dogs will be available on the retailer's birthday, and again on National Hot Dog Day (July 18). While you can get your classic dog, the featured flavor is perfect for hungry customers who want to spice up their lives for the day. The Reaper is a spicy hot dog made with 100 percent beef and sprinkled with a Carolina Reaper seasoning blend, and it sounds so lit. Like always, you can head to the condiment bar to add toppings like chili, cheese, pickles, and pico de gallo to your meal for free.
Loyal 7-Eleven customers in the know — aka 7Rewards members — can also keep packing on the deals for another week from Thursday, July 12 through Wednesday, July 18. If you're looking for even more refreshing drink options, visitors can grab a free Big Gulp with a share-size Snickers candy bar on Friday, July 13, or snag a free 20-ounce Coca-Cola drink with the purchase of any flavor Cheez-It Snack on Monday, July 16.
There are even more great snack freebies during the "7 Deals in 7 Days" promotion. You can quench your thirst and satisfy your savory cravings just in time for Saturday movie night by scoring a complimentary 7-Select Popcorn with your purchase of a 20-ounce Smartwater on June 14. On Sunday, June 15, a share-size bag of 7-Select Gummies will earn you a gratis single size Reese's Candy, while buying 7-Select chips on July 17 and July 18 will get you a free fresh sandwich or a bag of nuts. The options are endless.
"Free Slurpee day may be the most anticipated day of the year for millions of 7‑Eleven customers and new customers alike," Raj Kapoor, 7‑Eleven senior vice president for fresh food and proprietary beverages, said in the press release. "7‑Eleven Day is a celebration, not only of our birthday, but more importantly, of our customers. [...] We have lots of delicious new choices in stores."
Speaking of delicious new options, 7-Eleven is now offering all the tastes of summer with a S'Mores Brownie for only $1.99 as well as an array of bistro sandwiches. If you head to 7-Eleven on Slurpee Day during your lunch break, try one of the new sammies, like the Trio. It's an onion roll filled with layers of black forest ham, smoked turkey, and roast beef stacked on top of provolone cheese, lettuce, spicy mustard, and mayo.
While 7-Eleven is stepping up its food offerings for the holiday, I'm most excited about a brand new Slurpee flavor that's gotten quite a bit of hype. In addition to the free Slurpee on July 11, 7-Eleven is sweetening the deal with the debut of its highly-contested Cap'n Crunch's Crunch Berries Slurpee. According to people who've tried it, it tastes just like the cereal, which can be either a good thing or a bad thing. Either way, the frozen concoction is only available for a limited time, so you're definitely going to want to try it.
Free Slurpee Day is going to be here so soon, and I'm already plotting how I can score more than one free small Slush on the big day. Is there such a thing as too many free Slurpees? Asking for a friend.