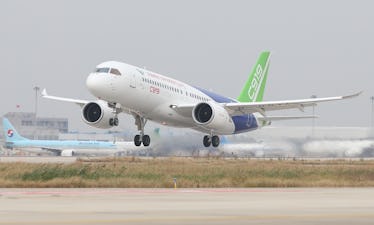 This Is The Best Day To Book A Plane Ticket Experts Say, So Get Ready To Act Fast
VCG/Getty Images News/Getty Images
You can breathe a sigh of relief now that the busiest travel day of the year is behind us, but you're not going to want to put away your passport any time soon. Experts just revealed that post-Thanksgiving is prime time for airline purchases, according to Lifehacker. If you're wondering "When's the best day to buy a plane ticket?" now is the time to get you travel itinerary in order ASAP.
The holiday shopping season kicks off with Black Friday, Small Business Saturday, Cyber Monday, and Giving Tuesday, but there's one little event most people overlook. According to the travel app Hopper, Travel Deal Tuesday — the Tuesday after Thanksgiving — has historically low ticket prices. The app also revealed that the savings get going around 6:30 a.m. ET and reach their peak at 9:30 a.m. ET. Researchers believe discounts are higher at this time because most travelers already booked their holiday tickets, so you can revel in the fact that people have checked the coming-home-for-Christmas flight off their list.
If you thought you were only in for Best Buy and Target deals this holiday season, you were mistaken. Now is the time to grab your calendar and plan accordingly. While $250 off a new iPhone sounds all fine and dandy, a week abroad — sans hefty price tag — sounds even better, right? No need to say it twice.
Can't quite figure out what area to explore? No problem. Hopper revealed ticket price predictions, so you can take a gander at the locations and costs and go from there. Voila! Here are some roundtrip prices Hopper expects to see this year:
Toronto, Canada, for $299
San José, Costa Rica, for $358
Reykjavík, Iceland, for $502
Paris, France, for $566
Delhi, India, for $669
Hong Kong, China, for $589
Delta is certainly getting in on the Travel Deal Tuesday festivities... even if the company calls it "Delta's November Getaway Flight Sale." Anyone who loves a good getaway would be remiss to skip out on this opportunity. Travelers need to make a move by Tuesday, Nov. 28 in order to get access to cheap flights throughout all 50 states and Canada. Here are some of the noteworthy trips that are totally calling your name:
Each way, round trip from New York City to West Palm Beach, Florida, for $89 (economy) and $119 (main cabin)
Each way, round trip from Los Angeles, California, to Kahului, Hawaii, for $239 (economy) and $269 (main cabin)
Each way, round trip from Atlanta, Georgia, to San Francisco, California, for $209 (economy) and $229 (main cabin)
Each way, round trip from Cincinnati, Ohio, to Las Vegas, Nevada, for $89 (economy) and $109 (main cabin)
Now that you've booked your ticket and started packing your bag, there are a few things to know about traveling that will make your time in the sky (well, the airport, at any rate) a lot easier. First things first, find a time to kick back with some entertainment. When waiting to board, you're going to get a tad restless, so bring a good book. The busiest travel day of the year also coincides with the biggest reading day of the year, but that event doesn't have to be reserved for Thanksgiving travel.
Next, give your luggage a little TLC. Travelers should ask an airline rep if they can have a "fragile" sticker placed on their luggage. Not only does this ensure some extra care, but it also means that the bags are loaded on the plane after everyone else's, so in turn, they'll be the first on the conveyor belt when the plane lands at its destination. This means you'll be headed to a cab quicker than everyone else.
Lastly, things can get overwhelming this time of year, so take a breather, remember all the good happening in your life, and go enjoy your vacation. Happy traveling.
Check out the entire Gen Why series and other videos on Facebook and the Bustle app across Apple TV, Roku, and Amazon Fire TV.