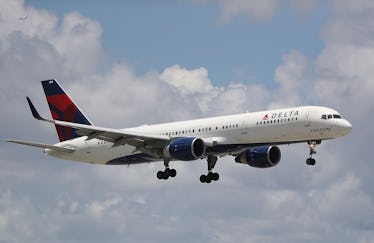 Delta's November Getaway Sale Will Land You Insanely Cheap Plane Tickets For This Winter
Joe Raedle/Getty Images News/Getty Images
It's beginning to look a lot like Christmas... but some of us aren't ready to surrender to the cold just yet. For those looking for a brief escape — even if it's a quick trip to a city 15 degrees warmer than home — now's the time to make a move. Delta's November Getaway Flight Sale is here, and it's the perfect reason to book a ticket.
Travelers need to make a move by Tuesday, Nov. 28 in order to get access to cheap flights across all 50 states and Canada. The discounts are eligible for trips between Dec. 5, 2017, and March 7, 2018 — so when single digits and ice get too much to bear, there's the option of heading somewhere warm. It's also pretty convenient that the timeframe coincides with holiday travel, so customers will be able to save while heading home to Mom and Dad's for Christmas.
Thinking about forgoing this deal? Anyone who loves adventure would be remiss to skip out on the November Getaway Flight Sale. Here are some of the noteworthy trips that are totally worth a purchase:
Each way, round trip from New York City to West Palm Beach, Florida, for $89 (economy) and $119 (main cabin)
Each way, round trip from Los Angeles, California, to Kahului, Hawaii, for $239 (economy) and $269 (main cabin)
Each way, round trip from Atlanta, Georgia, to San Francisco, Californi,a for $209 (economy) and $229 (main cabin)
Each way, round trip from Cincinnati, Ohio, to Las Vegas, Nevada, for $89 (economy) and $109 (main cabin)
Convinced yet? Delta asks travelers who don't see their city listed on the November Getaway Flight Sale to purchase a ticket and discover other opportunities that are waiting for them. It seems there's no reason not to book a flight.
To make the quick trip from reality even more exciting, there are a few things to know about traveling that'll make time away from home even more enjoyable. For one, it's time to learn how to master the baggage claim. Get ready to take notes and prepare for a less stressful airport experience (hooray).
First thing's first, travelers should ask an airline rep if they could have a "fragile" sticker placed on their luggage. Not only does this ensure a little TLC, but it also means that the bags are loaded on the plane after everyone else's, so in turn, they'll be the first on the conveyor belt when the plane lands in its destination.
There are a few other ways to speed up the carousel process, too. Gate-checking allows travelers to have their luggage held on a particular area of the plane, and their belongings are typically returned as the passengers deplane. Still not sure how to pull this off? A business-class ticket also allows for priority baggage handling, so that's definitely something to consider before booking.
Perhaps the best way to kick off a trip on the right foot is through entertainment. Thanksgiving Eve is the busiest travel day of the year, and also the biggest reading day of the year. Up to 60 percent of travelers are inclined to purchase, borrow, or bring reading materials for the journey, and more than three-quarters of Americans will tackle at least one book, magazine, or newspaper during this hectic time of year. However, the reading shouldn't stop there. No matter when a flight takes off, a good story is an imperative way to start the adventure off right — especially for those traveling between Dec. 5, 2017, and March 7, 2018. Here are some recommendations to get you started.
Happy traveling.
Check out the entire Gen Why series and other videos on Facebook and the Bustle app across Apple TV, Roku, and Amazon Fire TV.