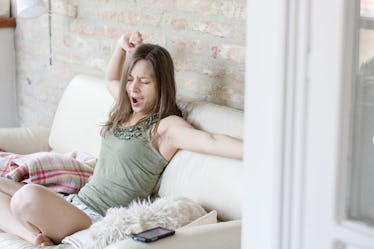 8 Struggles Every Couch Potato Has In Common When Watching Their Fave TV Show
Here's the thing: When your couch is comfortable, you have all the snacks you could ever want at your fingertips, and your favorite show is on the TV, why would you ever want to get up? It's so hard to leave that little piece of heaven on Earth, so I fully understand where a coach potato is coming from. In fact, I am currently sitting on my own couch right now, and have zero plans to get up any time soon. I guess you could say I'm a couch potato as well, and when you're a couch potato, you just appreciate the simple things in life.
You understand the importance of finding comfort, and then just staying in there as long as possible. Some people would say we're "lazy," but I'm sure those people just have really hard couches they never want to sit on. Plus, they probably have never truly experienced the two things we know to be absolutely true — couches are great and getting up is an option. There's actually a few things my fellow couchies know to be true as well, and it's these eight things we can all relate to. Now, tell Netflix we're still watching, because we're here, we're comfortable, and we're not going anywhere.