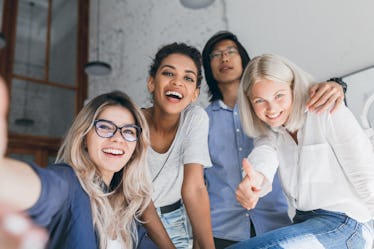 When Your Work Crew Is Like Your Second Family, You Experience These 8 Things
Some weeks, it feels like you spend all your time in the office. You're practically there for as long as you are at home, so it's no wonder you get so close with your coworkers. You might even form a bond with certain cubicle mates or people you see in the break room every day that creates the most awesome workplace vibe. They could even start to feel like a second family, and when your work friends are your best friends, it comes with incredible perks you never knew you needed.
I don't know about you, but work goals for me is to find a place where I have my squad. Like the girls in The Bold Type or everyone in The Office, I strive for friendships like that. I've had a few office jobs since college, and the best ones I remember are the ones where I got so close to my coworkers. I've even had a few work wives over time who have helped me out when I needed it, and lunch buddies who knew exactly what I wanted to eat every day.
You're spending so much time together and working on the same goals, that it's inevitable that you become like a family. It's only when you know these eight things to be true in your office when you know you've not only found awesome work friends, but besties for life.