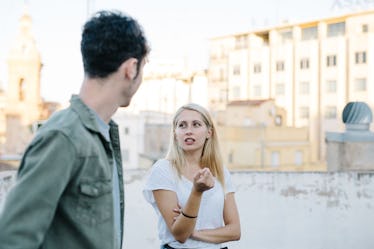 Here's How You'll Know When Your Significant Other Needs A Break From You
Being in a relationship isn't always easy. Even the seemingly happiest, healthiest relationships have their fair share of issues. Most couples experience rough patches at some point — patches where it seems like all you do is argue, or like you aren't making time for each other. According to experts, this might just mean that you and your partner could need some space or time apart. But when your significant other needs some space from you, it might be hard to tell. (Especially if they aren't great communicators to begin with.) However, there are signs to look out for that might indicate that your partner just needs a break.
"Emotions can be a wild roller coaster," Dr. Benjamin Ritter, founder of Live for Yourself Consulting, and The Breakup Supplement, tells Elite Daily. "There are highs and lows. The lows aren't permanent if you give them space and time to play out." Perhaps you and your partner are just experiencing a relationship low, or one of you is feeling emotionally low. It isn't a bad thing, as long as you have time to breathe and "play out," as Ritter says. Allow a break to happen if you feel confident that it's what you both need. And if you aren't sure whether or not a break is what your partner wants, then keep an eye out for these four signs.