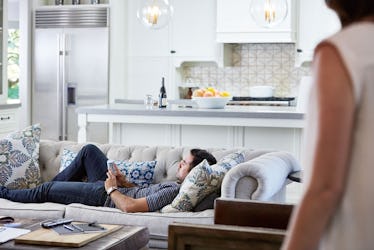 When Your Significant Other Is Upset With You, Here's How You'll Know So You Can Exhale
As great as a relationship may seem on the outside looking in, no relationship is perfect. Whether partners are constantly bickering or there are bigger issues at play, relationships are generally more complicated than they might appear. Couples fight, argue, and disagree all the time, but if you and your partner have healthy communication habits in place, you'll usually know when your significant other is upset with you because, well, they'll tell you! But if, on the contrary, you and bae don't communicate very effectively and they're not talking, experts say there are definitely ways to tell when something's up.
"Generally you will know someone is upset with you because the connection will change," sex and intimacy coach Irene Fehr tells Elite Daily. "You will feel them being colder toward you or their behavior will change from their norm, even if they claim that they are fine." So if you have a gut instinct that something is off, chances are you're probably right. You know your partner best, so if you feel their personality shift, it might be time to have a conversation.
Aside from that gut instinct, keep an eye out for the following four signs that might be indications that bae is salty.