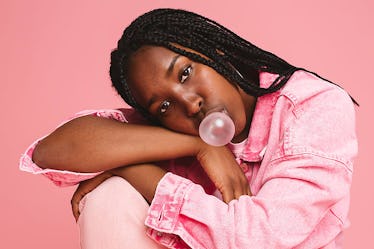 When You Get A Text From Your Ex, Your Brain Responds In The Most Intense Way
Even if your last relationship ended amicably, a text from your ex might have you shook. You might be ultra upset if things haven't cooled down yet. You might be annoyed at their audacity to text you, especially if you're not in the "friends again" stage. Or, this text from your ex might have stirred up curiosity and regret because you're still nursing feelings for them. Whatever the case may be, there are also neurochemical and physiological responses that come along with this, too — ones that happen out of your control and may make you feel out of control. When your ex texts you, your brain responds in a way that either mimics addiction or being in danger.
One way or another, this text will have an intense effect on you. Dr. Joy Harden Bradford told Elite Daily that an ex text might send you into a overthinking spiral. You'll get stuck asking yourself questions like, "Do they want to get back together? Did they realize it was a mistake?" It's even worse when your feelings about your feelings about the breakup itself are unresolved.
But the good news is that there are ways you can prevent it from ruining your day.