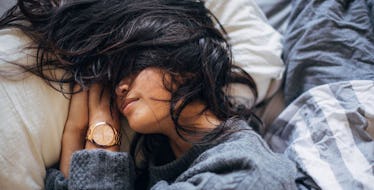 3 Emotional Signs You Miss Your Partner, Because Being Heartsick Is No Joke
If you're in a relationship, you're probably used to seeing your partner a lot. You two may grab a quick bite to eat and coffee before class, meet up for lunch during your breaks, and study together at night or meet up for happy hour post-work. So when there are some days your schedules don't line up and you can't see each other, you naturally miss your partner. Your mood is probably affected. You feel a little lonely. If you're used to having someone to spend time with often, little spurts of loneliness without them makes sense.
I spoke to Nicole Richardson, LPC-S, LMFT, about the ways that missing your partner would manifest into your other emotions and daily life. This isn't specific toward couples that are fighting or long-distance, but couples that typically see each other often that for some reason, have a couple of days where you can't meet up. These emotions will likely subside when you see your partner once again. Read on to see what Richardson had to say about how your emotions may react when you're missing your partner a little bit in the wake of their temporary absence.