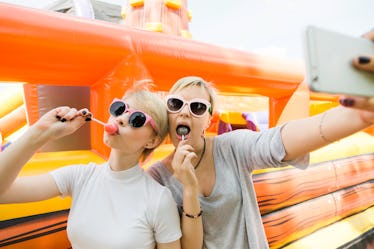 When You Become BFFs With Your SO's Sister, These 8 Things Are All Too Relatable
You're so in love with your SO — but that moment when you found out they have a sister and she's totally BFF material? That's when you hit the jackpot. Getting along with your SO's sister is one thing, but claiming her as one of your besties is ultimately the package deal. You might not notice at first when you become best friends with your partner's sister because she's so down to earth, and you didn't expect her friendship to be borderline out of this world.
Not only are you able to build and strengthen your relationship with bae, but you get to gain a new BFF in the process. You're winning on so many levels. It doesn't get any better than that, and you can put aside those jitters of making a good impression with the fam bam. When your SO's sister is your best friend, she always has your back when it comes to speaking highly of you to the rest of the family.
Even if things didn't work out between you and your SO, you know that she would still be one of your good friends. As rare and awesome as it may be, you aren't the only one who has formed a tight bond with your SO's sis. It happens, and you can so relate to the realness of this new-found friendship on so many levels.