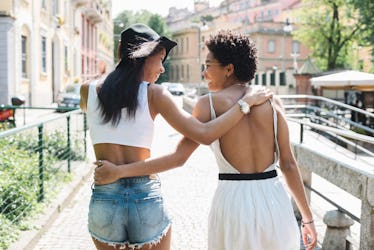 7 Adorable Ways To Welcome Your New Sister-In-Law To The Family
Nothing beats having a sister already established on your family tree, but gaining one along the way is pretty gratifying. Marriages bring families together, and you're united due to two people falling head-over-heels for each other. It's amazing, and if you get to add another sister into your life, you are super stoked to get those sisterhood vibes going. Since you're sort of starting from scratch, it might take a little work to figure out how to bond with your sister-in-law because you don't have much to refer back to.
You want her to feel welcome, and most importantly, you want her to know that your family is close-knit, but has room for her. Imagine how she feels — she has a whole new family and is likely looking forward to finding her place in the gang. It's going to be a new experience for everyone.
You may have gotten some time to hang out with her before she was a Mrs., but the vibe is so different now. She's your sister and you know all too well what sort of magical, relentless, and unquestionable kind of love that entails. It might take time to make those everlasting memories with your new sis, but you can start off by bonding with her in a few ways.