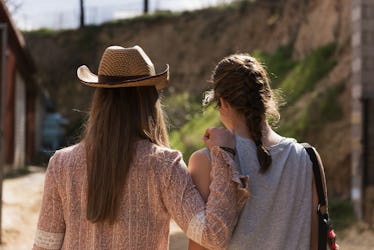 7 Traditions To Start With Your New Sister-In-Law That'll Make Her Your BFF
Amidst all of the excitement, there are some challenging things about being newly engaged. There's the fact that you now have to plan the wedding on top of trying to bask in the beautiful glow of the bling on your finger. And while in-laws sometimes contribute to any stresses of being newly engaged or married, they really don't have to be. Your new sister-in-law may be protective of her sibling, but you can make everyone's life so much easier by embracing several traditions to start with your sister-in-law that'll make you bond and hopefully create a new friendship in the process.
Not everyone clicks, and that's totally OK. You don't have to be BFFs with your boo's sister — especially if it's not in the cards. But even if your personalities clash a bit or you are just too different, you can always try to connect. By starting traditions that focus on each of your interests, you can relate to each other in different ways and establish a respectful, loving relationship.
If you already get along with your sister-in-law, all the better! These traditions will give you fun new things to look forward to each month (or however many times you want to repeat them), and will spice up your girls' outings a bit. Instead of doing the same thing all of the time, you get to venture out and think of new things to do.