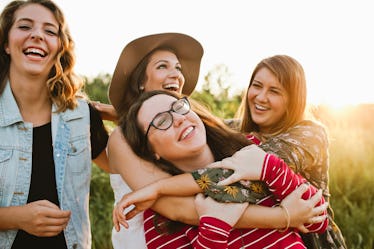 7 Traditions You Need To Start With Your Squad When The First Friend Gets Engaged
You knew this day would come, and it's finally here — the first of your friends just got engaged. You received the emotional FaceTime, and naturally, you're freaking out. Cue all the happy tears while you're dancing around the room celebrating. Now, you and your crew know it's time to start prepping and planning. This is your chance to start some really awesome traditions with your besties that will continue whenever someone else in your group gets engaged. Traditions are always exciting to carry on, but you're probably wondering what traditions to start with your friends when the first one in the squad gets engaged.
It's time to think outside the box. Obviously, you have to include the bridal shower, bachelorette party, and shopping for dresses together up in the mix. Those are a given, but this is also your time to start something entirely fresh that's unique to your crew. They can be traditions for the wedding prep, to celebrate the bride, or just fun activities to ensure you and your crew always make time for each other when life gets hectic. You don't really need an excuse to spend more time together with your besties, but if you need some inspo, here are seven traditions to start right now.