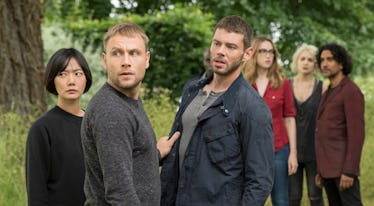 The 'Sense8' Series Finale Finally Has A Date & It's Coming Soon
Netflix
Sense8 is going out with a bang, and it is happening very soon. The Netflix sci-fi series was surprisingly canceled after premiering its second season last summer, but thanks to the vocal support of its fans, Sense8 got picked up for a series finale special in order to say goodbye the right way. We know that we are getting one last hoorah with the cluster, but when will the Sense8 series finale air, exactly? Thankfully, it is going to pop up on Netflix very soon.
Netflix has finally revealed that the final chapter in the globe-trotting, body-swapping journey of Sense8 will air on Friday, June 8. The streaming service also teased a bit about what the two-hour series finale special has in store for fans, via a press release to Deadline:
Personal lives are pushed aside as the cluster, their sidekicks, and some unexpected allies band together for a rescue mission and BPO take-down in order to protect the future of all Sensates.
Not much else is known about the upcoming series finale, although an Italian website that claims to have obtained a photo of the script's title page and is reporting that it will be entitled "Amor Vincit Omnia," a Latin phrase that translates to "Love conquers all." That would match the phrase that star Daryl Hannah tweeted out when she first revealed that the finale special was being shot, so it looks like it might be true.
The series has also released promo art for its finale special, which shows the main cast in front of the words "Together until the end."
If you are anything like me, you probably need a bit of a refresher about where we left off before the series finale pops up on your Netflix queue in about a month and a half. Season 2 of Sense8 ended with all of the cluster meeting up in person for the first time, on a mission to rescue Wolfgang from the villainous BPO operative Whispers. They manage to trick Whispers into thinking that the cluster is not physically there, and knock him unconscious, stealing both him and Jonas away in a van. While driving off, Will declares war on BPO.
Given how Season 2 ended, fans should definitely expect an action-packed series finale as the cluster wages their war against the shady organization that has been trying to capture and neutralize them for the entirety of the show. The press release also teased that they would be teaming up with "some unexpected allies," which definitely raises some eyebrows. Could Whispers actually change teams and help the cluster take down his organization? Or, there's also the recent development of Capheus discovering a whole bunch of Sensates in his hometown — maybe they will provide some extra support? That one little phrase could definitely mean a huge twist is in store.
Sadly, the upcoming special will be the last that fans ever get of Sense8. The sci-fi series became a cult sensation when it debuted on Netflix in 2015, but it apparently never gained enough traction for the streaming network to renew it for a third season. After Season 2 aired last summer, Netflix announced it was canceling Sense8, sparking disappointment and outrage among the show's fandom. After a month of Sense8 fans crying out for Netflix to reconsider its decision (there were trending hashtags, online petitions, and even a movement of mailing Netflix flip flops), the streamer finally agreed to air a two-hour finale special to close the show out. After the renewal news, Lana Wachowski thanked the fans, writing that their "love has brought Sense8 back to life."
All that's left to do now is watch how the Sense8 story ends when the finale special airs on Friday, June 8.