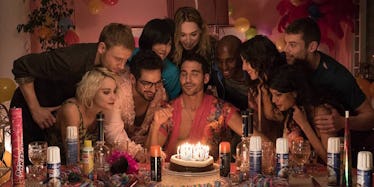 'Sense8' Fans Rejoice: The Show Is Getting A Two-Hour Finale Next Year
Netflix
TV lovers really can make a difference! A month after Netflix announced its cancellation of the original sci-fi series Sense8, it's co-creator Lana Wachowski just revealed the show will get the chance to say a proper goodbye in 2018. And it's all thanks to the outpouring of support from fans of the show.
Wachowski, who created and ran the series with her sister Lilly, posted a message to fans on the Sense8 Twitter account informing them the sprawling sci-fi epic has been given a two-hour finale special next year.
After the series was canceled, there was an immense effort among fans to pressure Netflix into bringing the show back. Fans have signed petitions, organized trending hashtags, and even began mailing Netflix flip flops in order to change the streaming service's mind. And it looks like it actually worked!
Wachowski credited the return of the show to the efforts of the fans, writing:
Here is a gift from the fans of this show that I will carry forever in my heart: while it is often true those decision are irreversible, it is not always true. Improbably, unforeseeable, your love has brought Sense8 back to life.
She went on to tease next year's two-hour special still may not be the end for Sense8: "You NEVER know." Check out the full letter below:
The new special is amazing news for Sense8 lovers not only because it means more of the show to watch, but mostly because the recently concluded second season ended with a bunch of cliffhangers.
For one thing, Sun and Riley learned Puck (that skeezy chemical engineer) is connected to a huge amount of other sensates, and Capheus is building a bigger local cluster of his own in Africa. But the big cliffhanger is that for once, it seems like the sensates have the upper hand on Whispers.
In the final scene, the sensates have knocked Whispers unconscious and captured him, along with Jonas, and Will declares war on their constant antagonist. But the question remains if Wolfgang is OK — he was captured by BPO prior to the sensates nabbing Whispers. Lana Wachowski promised an answer to what happened to Wolfgang is coming in the new special.
In a way, this finale special pick-up is so in line with the premise of Sense8: strangers all over the world coming together to work towards a common cause. We're all sensates now, you guys!