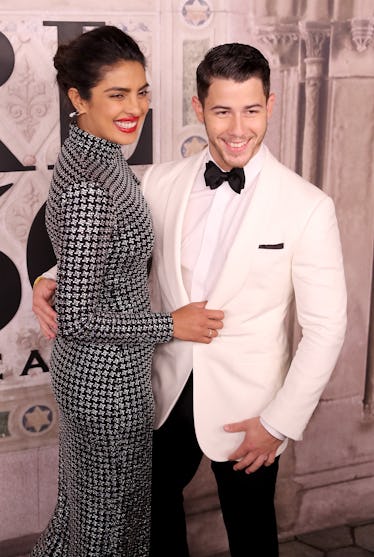 Priyanka Chopra Just Hinted She's Ready To Have Babies With Nick Jonas Sooner Than Later
Rob Kim/Getty Images Entertainment/Getty Images
Stop the press! Hold the phone! Drop whatever it is that you're doing, because I've got some news — and it's about Priyanka Chopra and Nick Jonas, so you know it's good. So, look. We all know by now that Priyanka and Nick are in love, and that they're engaged to be married. But what about the thing that comes after marriage (and also before or even without marriage, because this is a rad, rad world we live in)? Ya know what I'm talkin' about? Babies, you guys. I'm talking about babies. While love and marriage are good and fine, what the world really wants to know is: When will Priyanka Chopra and Nick Jonas have babies? Well, the newly engaged Quantico actress just hinted that she might be ready sooner than later.
According to Entertainment Tonight, the 36-year-old actress attended the God's Love We Deliver, Golden Heart Awards at Spring Studios in NYC on Tuesday, Oct. 16, and she dished about her excitement on the news that her friend Meghan Markle is pregnant with husband Prince Harry.
"How excited were you when you heard about Meghan and Harry?" the reporter asked.
Chopra replied, saying, "I just have, like, a few friends who are having babies right now and I'm like, 'God, I need to catch up!'"
Um, I'm sorry but are you kidding me with this news?!
You can watch her response in the video below, but I'm telling you that your blood pressure will rise (in the best way possible):
This update totally makes sense though, considering a report from Us Weekly, published on Oct. 1, noted that Chopra and Jonas wanted to start a family after the wedding. Elite Daily reached out to Jonas and Chopra's teams for comment on the report but did not hear back by the time of publication.
"Nick and Priyanka can't wait to get married," the source told Us Weekly. "They have amazing chemistry and can't wait to have kids."
The source noted that, while they're super excited to start a family together, they're going to hold off until they walk down the aisle to start trying. "They are going to wait till after the wedding to start trying," the source said. "But it's definitely on the agenda."
Not trying to rush you guys, but can you hurry up and get married already? Can you even imagine how beautiful that baby would be? I mean, just look at these two gorgeous humans:
Talk about hitting the gene pool lotto.
Anyway! According to Entertainment Tonight, Chopra and Jonas are already wedding planning. "Priyanka and Nick are ready to tie the knot sooner than later," one source told the outlet. "The couple has had an accelerated relationship, and are very comfortable with one another."
The source continued,
Priyanka has already been planning the wedding for a couple of months now and is excited to call Nick her husband one day. Priyanka and Nick are on the same page about wanting to get married earlier rather than later, and are telling friends it will most likely be next year.
Elite Daily reached out previously to both Chopra and Jonas' teams for comment on their wedding timeline but did not hear back by the time of publication.
Looks like we've got a pretty fun year of obsessively checking the internet for Priyanka Chopra and Nick Jonas relationship updates ahead of us! But let's be real, I'd be doing that anyway, with or without a wedding and a potential pregnancy.