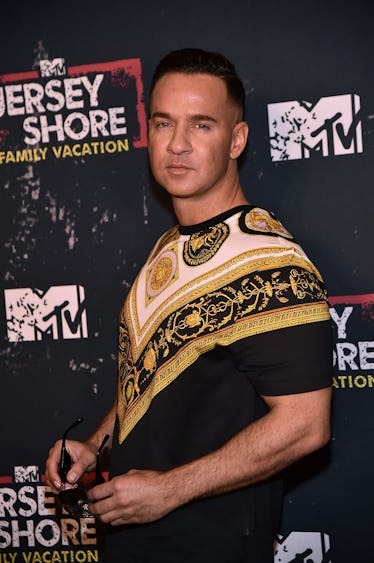 Here's When The Situation Will Reportedly Begin His Jail Sentence
Theo Wargo/Getty Images Entertainment/Getty Images
By now, you know that Mike "The Situation" Sorrentino of Jersey Shore fame will be going to jail after pleading guilty to tax evasion. But as of right now, he's still a free man! So, when will Mike "The Situation" Sorrentino go to jail? Not until 2019, according to a new report from TMZ. Sorrentino's team responded to a request for comment from Elite Daily saying, "Michael is grateful to continue work, celebrate the holidays & his 3 years sober milestone. He looks forward to completing his sentence and coming home to Lauren, family & friends."
According to TMZ's report, there were documents filed on Monday, Oct. 22 that shed some light on when Sorrentino will be heading to the federal penitentiary. TMZ reports that Sorrentino "must surrender to the Bureau of Prisons no sooner than January 15, 2019." So, there's still plenty of time before he has to give up his freedom and serve his time.
Sorrentino was sentenced to eight months in federal prison after pleading guilty to tax evasion. The ruling came down earlier this month on Friday, Oct. 5. According to Variety, Sorrentino's brother Marc was also sentenced to prison for tax evasion, but his role in the crime got him two years in prison. Elite Daily reached out to Marc Sorrentino for comment but did not hear back by the time of publication.
The Sorrentino brothers reportedly plead guilty to their respective charges in January 2018. The brothers reportedly brought in $9 million in income between 2010 and 2012. During those years, they allegedly falsified records and underreported their income.
In addition to his eight months in federal prison, Sorrentino was also sentenced to two years of probation and will be required to complete 500 hours of community service. As if all that wasn't enough, Sorrentino will also need to pay close to $134,000 in fines.
Despite his legal troubles, Sorrentino is actually experiencing quite a happy time in his life right now. He and his longtime girlfriend Lauren Pesce are engaged to be married. Back in May 2018, Pesce and Sorrentino opened up to People about the possibility of marrying later in the year.
"We're definitely planning," Pesce told People. "We don't have a date yet — I think we need to see how this timing pans out for the rest of the year. But we've been ready for this, so we're definitely not looking for a long engagement."
As for whether a wedding might happen on Season 2 of Jersey Shore Family Vacation, Sorrentino said it might just happen.
"I would have to say in the next couple of months, we're planning to do the wedding along with Season 2 — God willing," Sorrentino said. "We're actually in the planning stages now."
So, will they get married before the year's out (and before Sorrentino goes to jail)? Yep! Sorrentino announced the wedding date is Nov. 1 in an Instagram posted on Oct. 12. He wrote, "#Thehitchuation is happening November 1st, 2018. I will be marrying @lauren_pesce My rock , my best friend, my better half & my soul mate . You are my everything & I am so excited to call you Mrs Situation 👰 #gymtanlaurens."
That gives them ample time to enjoy newlywed bliss before Sorrentino heads to prison in January 2019. They could even go on a romantic honeymoon with all that time in between.
Needless to say, it seems like Sorrentino is looking ahead to the future rather than focusing on the negative sides of the current moment. Sure, he's going to prison, but he'll have his support system waiting for him when he gets out.