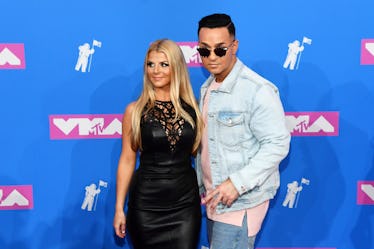 The Situation Announced His Wedding Date, So Get Ready For The Hitchuation
Nicholas Hunt/Getty Images Entertainment/Getty Images
We have a Hitchuation on our hands and it's going down very soon. The Stiuation announced his wedding date and as it turns out, the big day is only a few weeks away. According to Mike "The Situation" Sorrentino's Oct. 12 Instagram post, he and fiancée Lauren Pesce will tie the knot on Nov. 1, 2018. Get the Funfetti cake ready! (Just keep Angelina away from it.)
"#Thehitchuation is happening November 1st, 2018. I will be marrying @lauren_pesce My rock , my best friend, my better half & my soul mate . You are my everything & I am so excited to call you Mrs Situation 👰 #gymtanlaurens," Mike captioned a sweet photo of Lauren kissing him on the cheek.
Longtime couple Mike and Lauren dated in college and broke up when Sorrentino began shooting Jersey Shore almost a decade ago. The pair rekindled their romance in 2012 and have faced a rocky road over the past few years, as Lauren has stood by Mike through legal drama and addiction issues. Mike has been sober for over 2 years at this point. His adorable and emotional proposal to Lauren was featured on a June episode of Jersey Shore Family Vacation and viewers have been wondering when the lovebirds would officially walk down the aisle ever since. Now Mike's finally letting fans in on their plans. To borrow a phrase from Pauly D: I love weddings this time of year!
Mike's wedding date announcement comes in the wake of his Oct. 5 Newark federal courthouse visit, where he was sentenced to 8 months in prison and two years supervised probation for a 2014 tax evasion charge. Lauren was by his side for the sentencing.
"Thank you for all of your messages of love & support. We are happy to put an end to this chapter and excited to move forward in our future. We are blessed to have our health and the outpouring of support from family, friends & fans. We love you," she shared on Instagram following the news.
"When I met Mike, I met him as a person and not as a celebrity," Pesce has previously stated. "So I've always known him at his core — him being the most giving and loving family-type of guy in his soul. And through any kind of ups and downs, any kind of darkness that he went through, I always knew that person inside was so important and worth fighting for. I always wanted him to see how special he is so that he would be willing to fight for himself."
Lauren and Mike's loving relationship has become a fan favorite element of the Jersey Shore revival Jersey Shore Family Vacation. Of course, audiences have been hoping they'll get a chance to see the "I dos" take place on the small screen. Back in July, Mike confirmed that the wedding will indeed be televised.
It seems that Mike is truly committed to living his best life these days. Congrats to him and his autumn bride-to-be.