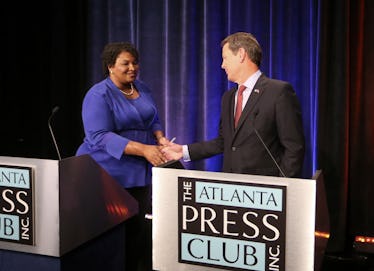 This Is The Deadline To Call Georgia's Governor Race, So Get That Popcorn Ready
Pool/Getty Images News/Getty Images
It's been more than a week since the Nov. 6 midterm elections, but there are some races that remain unsettled. One in particular that everyone has been fixated on is the gubernatorial race between Democrat Stacey Abrams and Republican Brian Kemp. While it initially looked like Kemp won the election, provisional ballots have increasingly shrunk his lead over the past few days — and they're still pouring in. That said, you might be wondering: when will Georgia's governor election be decided? Well, it looks like you'll have to wait just a little longer for some answers.
Previously, Georgia's Secretary of State's office shared a statement to Elite Daily saying the results would be certified no later than Tuesday, Nov. 13. But in a ruling on Monday, Nov. 12, a federal judge pushed the date back, prohibiting counties from certifying the election results earlier than 5 p.m. ET on Friday, Nov. 16, per NBC News. The state must certify those results by Nov. 20, according to state law.
Current election results as of Nov. 14 show Kemp leading with a margin that would make him eligible to win the race. (He has 50.3 percent of votes, per The New York Times, putting him slightly over the 50 percent threshold needed to win the election). However, Abrams, who has 48.8 percent of the vote, has been holding out against conceding on the hope that provisional ballots will narrow that margin and either force a recount or lead to a runoff on Dec. 4. A representative for the Georgia Secretary of State's office did not answer Elite Daily's questions regarding the possibility of a runoff. This year, an estimated 27,000 provisional ballots were used to vote in Georgia, so there's a chance that Abrams could, indeed, bring in more votes.
The race has been overshadowed by accusations of voter suppression by Kemp, who in his capacity as secretary of state oversaw the election he was himself running in. In an October statement to Elite Daily, Candice Broce, a spokesperson for the secretary of state's office called lawsuits regarding the allegations "a publicity stunt," adding "Their claims are bogus. It is a complete waste of our time and taxpayer dollars."
However, the accusations prompted heavy criticism, including a lawsuit from Abrams' campaign and the Democratic Party of Georgia on Nov. 11 which claimed that over 1,000 absentee ballots in Gwinnett County were "unlawfully rejected" for missing information. It also requested that provisional ballots from state residents who were registered in one county but voted in another be counted. In a statement shared with NBC News, Broce called the litigation a "twelfth-hour stunt." Broce did not immediately respond to Elite Daily's request for comment on the suit. On Tuesday, Nov. 13, a federal judge ruled that any absentee ballots that have been rejected due to problems with the date of birth must be counted. Elite Daily reached out to a representative of Gwinnett County's elections office for further comment, but did not immediately hear back. In a statement to USA Today, Lauren Groh-Wargo, Abrams' campaign manager, said the court rulings were "wins for Georgians' fundamental right — the right to cast a ballot."
"Given the confusion sowed by the Secretary of State's office last week and the number of voters who experienced irregularities regarding their registration status, these victories were necessary steps in the fight to count every eligible vote in Georgia," Groh-Wargo continued.
Meanwhile, Kemp has declared victory. He quickly resigned from his post as Georgia's secretary of state on Nov. 8 and named a transition team, urging Abrams to concede along the way.
With less than 60,000 votes differentiating the two as of writing, though, who knows what'll happen. We'll see on Nov. 16.