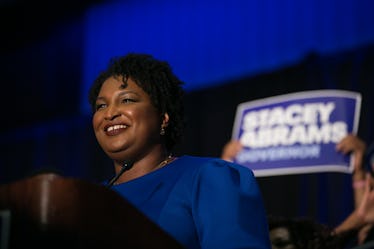 The Georgia Governor's Race Might Come Down To A Runoff & The Tension Is Killing Me – UPDATE
Jessica McGowan/Getty Images News/Getty Images
If you're wondering who won the Georgia governor race, I'm going to give it to you straight: It's not looking too good for Stacey Abrams, the Democrat campaigning to become the first-ever black female governor of Georgia, right now. As of Nov. 7, her challenger, Georgia Secretary of State Brian Kemp, is leading with majority of precincts reporting. But she's refusing to concede, as Abrams is apparently holding out hope that absentee and provisional ballots will move to a runoff. Elite Daily reached out to her campaign for further comment, but did not immediately hear back.
UPDATE: On Nov. 7 around 4:30 p.m. ET, the Secretary of State's office gave a statement to Elite Daily reading, "On November 6, 2018, a record number of Georgians cast their ballots in a mid-term election. Immediately after the polls closed, county election officials worked through the night to tabulate ballots. Today, Clarke, Fulton, Hall, and Gwinnett counties completed tabulation of their remaining absentee ballots. Less than 3,000 non-provisional votes remain state-wide. Cobb and Chatham are expected to complete tabulation today. County officials have reported less than 22,000 provisional ballots cast state-wide. Counties have until Friday, November 9, 2018 to verify provisional ballots and until Tuesday, November 13 at 5:00 p.m. to certify their results. The Secretary of State's office will certify the final results after county certification and no later than Wednesday, November 14, 2018."
EARLIER: As of 9:55 a.m. ET on Wednesday morning, Kemp is in the lead by nearly 68,000 voters with 99 percent of precincts reporting, per CNN. That adds up to 50.4 percent of the vote, putting him just over the 50 percent threshold needed to prevent a runoff. However, Abrams is refusing to concede, keeping hope alive that he'll dip below the threshold once additional ballots come in. "I'm here tonight to tell you votes remain to be counted. There's voices that are waiting to be heard," Abrams, a graduate of Yale Law School who served as the minority leader in the Georgia State House of Representatives, told supporters on Nov. 7, per CNN. If neither candidate receives the 50 percent needed when those votes finally come in, a runoff will reportedly happen in early December. Elite Daily reached out to the Georgia Secretary of State's office, which oversees elections, for comment on the possibility of a runoff election, but did not immediately hear back.
The narrow results come in after a contentious race which was characterized by accusations of voter suppression by Republican candidate Brian Kemp, who served as Georgia Secretary of State during the election. The Associated Press reported in early October that 53,000 voter registration applications — 70 percent of which were from Black applicants — were still pending ahead of the election. Candace Broce, staff attorney and press secretary for the secretary of state's office, previously told Elite Daily via email that individual counties are responsible for accepting or rejecting voter applications rather than Kemp's office, saying, "There are no voter registration applications 'on hold' in Kemp's office, and every single pending voter can vote in the November 6th election." She disputed the AP's numbers, but did not respond to followup questions about correct numbers.
The race between Abrams and Kemp appeared as a microcosm of some of the larger issues debated on the national stage. Per Politically Georgia, Abrams supports stricter gun legislation, including universal background checks for private sales of firearms and a repeal of the "campus carry" law that allows people to carry firearms on college campuses. Abrams also supported eliminating the use of cash bail for poor defendants and decriminalizing marijuana. She opposed issues like further abortion restrictions and bills that threatened to legalize discrimination. Conversely, her opponent Kemp, who was supported by President Donald Trump, had often called Abrams "too extreme for Georgia." Kemp had plans to put a cap on state spending and create a database to track illegal immigrants with criminal convictions and for speeding up their deportation process, per Politically Georgia. He also opposed issues like stricter gun legislation, medicinal marijuana, and expanding Medicaid.
In the days leading up to the election, celebrities — including Oprah, Michael B. Jordan, and Barack Obama — showed up to offer Abrams their support. On Nov. 1, Oprah turned up at a campaign rally for Abrams and delivered a moving speech. "The baseline [of democracy] is not just what I want or what I need or what's gonna fill my pocketbook, but recognizing that what is good for everybody is good for us. Stacey Abrams gets that," Oprah said.
Ahead of her first debate with Kemp on Tuesday, Oct. 23, a decades-old article of Abrams burning the state flag, which featured the Confederate battle flag at the time, emerged, seemingly jeopardizing her bid for office. The burning dates back to 1992, when Abrams was a freshman at Spelman College. Though the resurfaced report prompted some backlash, Abrams' campaign said her actions were part of a "permitted, peaceful protest against the Confederate emblem in the flag."
"During Stacey Abrams' college years, Georgia was at a crossroads, struggling with how to overcome racially divisive issues, including symbols of the Confederacy, the sharpest of which was the inclusion of the Confederate emblem in the Georgia state flag," Abrams' spokeswoman Abigail Collazo said in a statement to CNN. "This conversation was sweeping across Georgia as numerous organizations, prominent leaders, and students engaged in the ultimately successful effort to change the flag."
Since the protest, Abrams has become a strong critic of Confederate symbolism. In August 2017, following the deadly riot in Charlottesville, Virginia, over the removal of two Confederate monuments, Abrams called for the removal of the giant carving that features three Confederate war leaders on Stone Mountain. "Confederate monuments belong in museums where we can study and reflect on that terrible history, not in places of honor across our state," tweeted Abrams. "Paid for by founders of the 2nd KKK, the monument had no purpose other than celebration of racism, terror & division when carved in 1915."
Kemp shot back saying that Georgians should not "attempt to rewrite" the past, and vowed to protect the monument from "the radical left."
And here we are — the fight continues. Stay tuned for what's to come in this race.