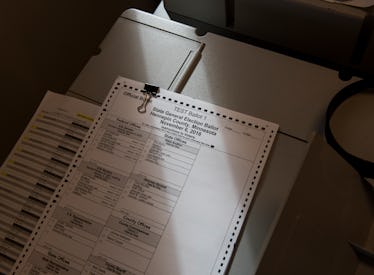 These Claims Of Voter Suppression Ahead Of The Midterms Are Troubling
Stephen Maturen/Getty Images News/Getty Images
There's less than two weeks to go until Election Day 2018, but already, the first early votes in the midterm elections are beginning to trickle in around the country. But while voters are eager to cast their ballots in one of the most contentious (and potentially consequential) midterm elections in recent memory, numerous reports from advocate groups and local news sources indicate that voters in some areas are facing barriers at the ballot boxes. These cases are prompting questions of whether voter suppression is a problem in the United States, and just how far it may go at a pivotal moment in the country's politics.
Voter suppression isn't necessarily someone physically blocking voters from the polls. It can take many forms at different stages of the electoral process, American Civil Liberties Union (ACLU) staff attorney Sophia Lakin tells me in an interview for Elite Daily. Some measures may make it harder to register to vote, for example via bureaucratic red tape, while other measures limit voter access to polling locations and hours or add requirements for those arriving at the polls, like strict voter ID laws. Another might be complications that take place after a voter has cast their ballot.
While the risk of fraudulent voting is often used as the justification for these restrictive measures, the actual incidence of this is close to nil, as proven after the president's own commission, established to investigate his claims of "millions of" incidents of fraud, was disbanded after unsubstantial findings.
"The fact that people keep talking about voter fraud is a real distraction from what is actually happening here, which is voter suppression," says Lakin.
Voter suppression measures can disproportionally affect certain groups of people, Lakin says. For example, elderly voters especially may struggle with giving a consistent signature. "Almost without fail, it's groups of color, poor voters, elderly voters, voters with disabilities — these tend to be the groups most affected by these restrictive measures," she says.
Ahead of the 2018 elections, the situation regarding voting registration in Georgia has drawn attention. Georgia is one of 24 states, per the Brennan Center for Justice, that has passed voter restrictions since 2010. The state now requires the name on the registration to match exactly what appears on other state records; any mismatch results in the applications being moved to "pending" status. The Associated Press reports that some 53,000 voter registration applications in the state are still pending. Of those, nearly 70 percent are reportedly for African-American voters, though they comprise only 32 percent of the state's population. Civil rights groups filed a lawsuit against Georgia Secretary of State Brian Kemp, Georgia's top election official, over the so-called "exact match" law.
Candace Broce, staff attorney and press secretary for Kemp, tells Elite Daily via email that individual counties, not Kemp's office, are responsible for accepting or rejecting voter applications, and called lawsuits regarding the so called "exact match" laws a "publicity stunt." She says,
Their claims are bogus. It is a complete waste of our time and taxpayer dollars. ... There are no voter registration applications 'on hold' in Kemp's office, and every single pending voter can vote in the November 6th election. Any claims to the contrary are politically motivated and utterly false.
Broce characterized the number of pending voter registration applications reported by the AP as "wrong," but did not respond to followup questions regarding correct numbers. A press release from July 2018 on the subject appeared to show a number of pending registrations around 51,000.
Per NPR, Georgia was also said to have purged some 500,000 voters from its rolls in July 2017 alone, about a fifth of whom were reportedly removed for simply not voting in previous elections. The Brennan Center put that figure at 1.5 million between 2012 and 2016, which Broce also disputed as "wrong," saying it included county to county transfers of voters.
The Brennan Center states that the combined effect of policies like the ones in Georgia "is to put voters — especially racial minorities — at risk of disenfranchisement."
While Lakin says it's standard practice to remove voters who may have, for example, moved or died, "when you see a big increase in the number of people who are purged, you're likely to capture people who shouldn't be removed." She adds, "If you're in a state when you're removed and you don't know it and there's no same-day registration, you show up at the polls and you're out of luck."
The ACLU is one of the civil rights groups which has taken legal action against election officials, including Kemp, who oversee the process for the state. Kemp is also running for governor against Democrat Stacey Abrams in a tight race. In a lawsuit, the ACLU alleged that the state had unconstitutionally rejected at least 160 voters' absentee ballots due to a mismatch in their back-of-envelope signatures, according the ACLU's tally as of Tuesday, Oct. 23. (The ACLU's request to give those voters a chance to prove their identity was approved by U.S. District Court Judge Leigh May on Wednesday, Oct. 24.)
Broce tells Elite Daily that while local officials are responsible for absentee ballots and Kemp's office is not involved in that process, the secretary of state's office has "opened an investigation on behalf of the State Election Board to ensure that counties are following the law in making these determinations."
But it's not just Georgia. Over in Kansas, Hispanic-majority Dodge City's only polling place was recently moved to outside the city's limits, per the AP, which advocates worry could affect voters' access to the polls. Elite Daily reached out to Ford County Clerk Debbie Cox for comment but did not hear back. In North Dakota, meanwhile, changes to the state's identification laws, recently upheld by the U.S. Supreme Court, means that Native Americans in particular may be impacted. According to NPR, the voter ID law could potentially affect tens of thousands of North Dakotans; as many as 18,000 who lack alternative documentation, such as utility bills. As such, many Native Americans are scrambling to get new IDs to get registered in time. In Arkansas, the state's new law requiring photo IDs in order to cast a ballot will go into effect for the 2018 election.
"What's interesting is that in states with competitive races, like Georgia and Kansas, typically seen as critical and pivotal … we are seeing there's been a lot of voter suppression happening in those places," Lakin adds.
Lakin says that a secondary effect of these restrictive measures is intimidation — the atmosphere or perception by voters that the process will be so onerous that they don't bother voting altogether. Advocates are concerned about the effect this might have on who shows up on Election Day.
"[Intimidation] affects turnout for sure," Lakin says. While some indications project this election could see a boost over typical voter participation rates, turnout has historically been low. Electoral advocacy organization FairVote reports an average of 40 percent turnout in midterm elections.
Lakin stresses that voters who witness or experience any complications casting a ballot should seek out an election protection volunteer, if present, or call their hotline at 866-OURVOTE to understand their rights. But "at the very least," she says, "do not leave the polling place without casting a provisional ballot." However they end up casting ballots on Nov. 6, voters this election will have a decisive impact on the future of the country's politics.