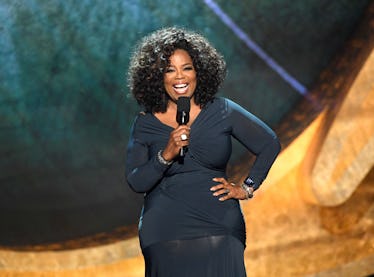 Oprah Came Out To Support This Candidate For Governor With A Powerful Speech
Kevin Winter/Getty Images Entertainment/Getty Images
Is there a higher honor having Oprah Winfrey on your side? I doubt it. There's not many folks who know what it's like to have Oprah championing their ideals, but someone who does is Georgia Democratic gubernatorial candidate Stacey Abrams. If you want to know what it's like having the Queen as your cheerleader, watch Oprah's speech supporting Stacey Abrams for governor — it'll give you chills.
Oprah hit the campaign trail in support of Abrams on Thursday, Nov. 1. During a rally in Marietta, Georgia, she took the stage and delivered a heartfelt and goosebump-worthy speech about why she's chosen to show up for Abrams, according to NBC. Oprah started,
I am an independent woman. I have earned the right to do exactly what I want to do when I want to do it. I've earned the right to think for myself, and to vote for myself.
Oprah wanted to illustrate, at the start of her speech, that she was speaking in support for Abrams of her own volition. In fact, she said, she isn't even a registered Democrat. Oprah explained that she called Abrams up a few days before Thursday's rally and asked if she could speak — Abrams was so floored that while on the phone, she told Oprah she had to pull over to the side of the road. "I paid for myself, and I approve this message," she told the crowd on Thursday.
Oprah said the reason she came out to the rally is because Abrams stands for things that matter, including "Medicaid expansion," "keeping families together," and "common-sense gun control." Oprah went on to talk more about Abrams' values and, in the part of the speech that admittedly made me emotional, spoke about what American democracy actually means. She said,
The very foundation of our democracy is to think about other people. To live a life of service. Democracy is not just about our individual rights and concerns and our individual protections, but rather it lives and thrives in making sure that everybody is lifted by the community [...] that the baseline is not just what I want or what I need or what's gonna fill my pocketbook, but recognizing that what is good for everybody is good for us. Stacey Abrams gets that.
Winfrey added, "if you're woke just a little bit, you know everyone is not treated equally."
It wouldn't be a classic Oprah moment without proper use of her iconic "you get a car." Borrowing from that, Oprah joined the crowd in chanting "You get a vote" instead. Chills.
Do I have to even tell you that Twitter was loving it?
Oprah will also go door-to-door on Abrams' behalf, according to BuzzFeed News. Following the endorsement, Abrams told NBC News in a statement that she's honored to have Oprah's support and help on the campaign trail leading up to the elections on Nov. 6. Abrams said on Oct. 31,
Oprah Winfrey has inspired so many of us though the years with her unparalleled ability to form real connections and strengthen the bonds of family and community. I am honored to have Oprah join me for uplifting and honest conversations with voters about the clear choice before us in this election and the boundless potential of Georgians.
If Abrams can snag the win, she would become the first Black woman to serve as governor of any U.S. state, marking a historic first for the nation. She's currently neck and neck with opponent Republican Secretary of State Brian Kemp: A NBC/Marist poll published Oct. 24 had Kemp predicted to win 49 percent of likely voters and Abrams 47 percent. But in terms of registered voters, the candidates were tied at 47 percent, according to NBC News.
With less than a week until the midterm elections, it's possible Oprah's speech might be able to break that tie. Election Day can't come fast enough.