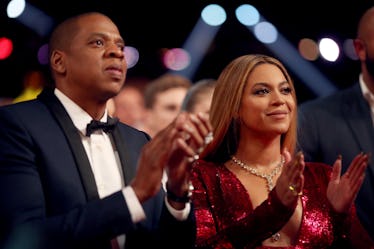 When Will 'Everything Is Love' Be On Spotify? Don't Get Your Hopes Up
Christopher Polk/Getty Images Entertainment/Getty Images
I know how your night has gone so far. You were just innocently sitting at home, enjoying your most recent Netflix binge sesh, or maybe playing some Fortnite with bae, when Beyoncé and JAY-Z decided to flip your entire world on its axis with absolutely NO WARNING. That's right, leave it to Bey and JAY to drop their entire new album, Everything Is Love, on the most average summer Saturday, without so much as a tweet for warning. But now that you've thoroughly processed the fact that there is new music from the Carters in the universe (and it's about time), the big question on everyone's mind is obvious: When will Everything Is Love be on Spotify to be streamed by the masses?
UPDATE: One should always expect the unexpected when it comes to Bey and JAY, so I should have expected this: The Carters have gone and made Everything Is Love available on Spotify. It goes without saying the Beygency is in shock and disbelief over the release (in the best way possible). The nine-track album is now available to be streamed to your heart's content. Sadly, Lemonade is still missing in action, though. Click play below to listen to this glorious album in its entirety.
EARLIER: Well, the answer, I'm sad to say, is probably not any time soon. Elite Daily reached out to Bey and JAY's teams for comment on when we can expect to stream their glorious new tracks on Spotify, but did not hear back by the time of publication.
But I think you can probably take Beyonce's own lyrics as an indication that streaming Everything Is Love anywhere other than TIDAL is probably going to be a no-go. On her new track "NICE," Bey gets pretty honest about how she feels about the idea of making her album available on streaming services like Spotify, rapping confidently,
Patiently waiting for my demise 'cause my success can't be quantified / If I gave two f*cks about streaming numbers woulda put Lemonade up on Spotify
Obviously, Bey is alluding to the fact that, to this day, her 2016 album, Lemonade, still isn't available to stream on Spotify. While it's not uncommon for artists to keep their new music off Spotify for a period of time after they drop their album to boost physical sales, usually it's only a month or two. But Bey is pushing two-and-a-half years!
The Beygency definitely heard her message loud and clear and they're currently having an emotional breakdown on Twitter over the fact that, on top of not being able to stream Everything Is Love on Spotify, they probably will never get to stream Lemonade there, either.
I know you're probably wishing Bey and JAY would, just this once, make their new music available on all the most popular streaming services, but honestly, this couple is not about following the status quo. Actually, on their track "Apesh*t," they lobbed a serious dig at another major mainstream part of the music industry: The Grammys.
Towards the end of the track, JAY made it very clear that he is NOT okay with the fact that he and Bey have still yet to take home an Album of the Year award despite being nominated for, like, a million and one Grammys between them. "Tell the Grammys f*ck that zero for eight sh*t," he raps on the track.
Do you hear that sound? That's the sound of the entire world applauding JAY for calling the music industry out. Actually, this is real footage of me immediately after listening to that line:
Shooketh.
Anyway, if you don't have TIDAL and you can't stream the entire Everything Is Love album, I do have some good news for you: Bey and JAY made their music video for "Apesh*t" available on YouTube.
Mr. and Mrs. Carter are too good to us peasants and we do not deserve them.
So, long story short, Mr. and Mrs. Carter are not concerned with making their music available for you to stream on Spotify. And even though I am beyond devastated about this fact, I also wouldn't expect anything less from these two musical trendsetters. Bey and JAY do what they want and do it well!