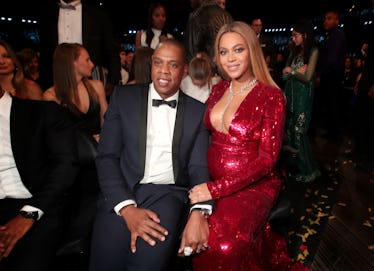 If You're Hoping 'Everything Is Love' Is Headed To iTunes, Read This
Christopher Polk/Getty Images Entertainment/Getty Images
The surprising release of Everything Is Love is exactly why you'll never, ever forget what you were doing on the afternoon of June 16 in the year 2018 of our Lord and Savior, Beyoncé. The shocking new album release — which features a collaboration between JAY-Z and Beyoncé in the wake of their phenomenally executed Lemonade and 4:44 — is exclusively streaming on TIDAL, but you're not wrong to wonder when Everything Is Love will be on iTunes, because you're like, 1 of 150,000,000 asking that very question right this second.
In a precision move that featured literally ZERO leaks ahead of the jaw-dropping announcement, the album quietly released on June 16, just a day after the duo took the stage in London for the fourth stop in their multi-city June through October On The Run II tour. TIDAL and Roc Nation touted that the album will be exclusively streamed on TIDAL for the time being, and though the music-streaming service and the label didn't announce any immediate fans to deliver the album to any other streaming platforms, surely Bey and JAY are thinking of the fans who don't have access to TIDAL yet, right?
As it stands, there's no official word on when Everything Is Love will stream on iTunes, or even when it'll be available to download, and when Elite Daily reached out to a rep for the couple for comment on if and when that will happen, it was not immediately returned at the time of publication.
But don't freak out yet. There's hope still.
The music video for "Apesh*t" is live on YouTube, which means that the masses can watch it (and rewatch it... and rewatch it... and rewatch it) as regularly and as often as they'd like. (And for the record, I'd very much like for it to be known that I've already played the video several hundred times so far, and I have every intention of continuing to do so.) The music video for the song got the internet talking immediately, not only for the context of the song, but for the location of the shoot.
Shot at the world-famous Lourve in France, it features Bey and JAY surrounded by world-famous art, including the Mona Lisa.
Watch it here:
And for yet another reason not to lose it because you don't have TIDAL, the good news is that you can get an account rather easily, and if you're not sure that you want to commit to paying for yet another streaming service, then you'll love the fact that you can sign up for a free membership to test-drive TIDAL. That means that you can stream TIDAL for up to six months for free, and then it's just $9.99 each month afterward — roughly about what you'd spend on other streaming devices.
Also, it's good to note that just because Bey and JAY haven't announced any concrete plans to place the album on other devices, it doesn't mean they're not going to. Because JAY is part-owner of TIDAL, it makes complete sense that he'd want to promote the joint collab on his own streaming service first.
According to a report published on the website for Just Jared, the couple's album features nine songs and is not yet available to download on iTunes.
So it seems like you've got two options: Join other optimistic fans willing to wait for further confirmation from the queen on if and when the album will make it to other digital players, or buck up and get a TIDAL free trial (or skip straight to a membership so you don't ever feel unprepared for Beyoncé's blessings again) and start streaming the album immediately.
The choice is yours, but remember: Beyoncé is watching.