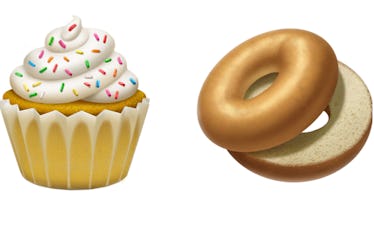 Apple Is About To Add A Ton Of New Emojis To The iPhone, Including A Bagel & A Cupcake
Personally, the most exciting news to come from the tech world — besides a new iPhone release — is a new emoji release. I use emojis constantly in my text messages and social media posts... probably too much, actually. But my addiction to emojis is about to get even more real, because a bunch of brand new ones are coming to Apple with the release of iOS 12.1. So when will Apple's iOS 12.1 emojis be available?
This may not be the first time you're seeing a lot of these new emojis. Apple actually debuted the designs on Monday, July 16 in honor of World Emoji Day, which fell on on Tuesday, July 17. These new characters are part of the Unicode 11.0 update, which was released back on June 5. So yeah, it's been a bit of a waiting game for these bad boys.
Apple announced on Tuesday, Oct. 2 that the emojis are available in public beta previews of iOS 12.1 right now. So, if you're a public beta user, you can get them ASAP! Just update your iPhone, iPad, Apple Watch, or Mac and they'll show up.
However, if you're not a beta user, you won't see the emojis until they're released to the public, which hasn't happened yet. And, unfortunately, there's no word yet from Apple on when that will happen. However, looking at past releases, the new emojis were released on Oct. 31 both in 2016 and in 2017. So, based on those releases, it's possible the software could roll out on all devices later this month. Emojipedia has also predicted that the new emojis will be released between September and December, so it could be any day now.
What emojis will you get when you (finally) get that update to iOS 12.1? The highly-anticipated redhead emojis will be included, as will the bagel, cupcake, and the nazar amulet (which, being Greek, I'm completely stoked about). You'll also see a lacrosse stick, softball, lobster, and hiking boot.
I'm also super excited about the festive little smiley face wearing a birthday hat and the smiley surrounded by hearts. They're perfect for a birthday or when you're feeling loved.
Users will also see a bunch of new animals! Apple is adding a llama, mosquito, raccoon, and a swan. They join the new lobster, kangaroo, peacock, and parrot, which were all previously announced on World Emoji Day.
In a press release for the new emojis, Apple gave a little more background about where the future of emojis are headed.
Thousands of emoji are currently available on iOS, watchOS and macOS, including emotive smiley faces, gender-neutral characters, various clothing options, food types, animals, mythical creatures and more. New emoji characters are created based on the approved characters in Unicode 11.0. Apple is working with the Unicode Consortium to add more disability-themed emoji to the keyboard for Unicode 12.0, slated for release in 2019.
I don't know about you, but I'll constantly be refreshing my phone for that iOS 12.1 update. Can't wait, Apple!