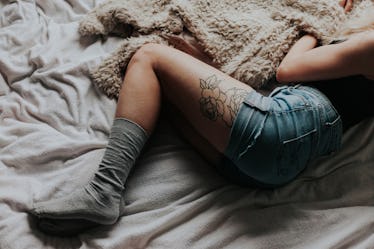 The 7 Bedroom Hacks You Need To Know After College, Because Being An Adult Is Exhausting
After you graduate from college, there seems to be an endless list of things for you to figure out, all at once. You have to find a job, a place to live, and a way to delete all of the embarrassing things you've posted on social media in the last four years, to name a few. But then there are the mentally boggling items on the list that seem easy, but you have no answers for, like when to throw out a duvet cover, or how to decorate your room with something besides bottle caps and empty liquor handles you fashioned into flower vases.
No one expects you to figure everything out immediately, so don't put that type of pressure on yourself. But over time, there are certain ways of living that will improve your quality of life as an adult, allowing you to juggle your professional, personal, and home life more easily, without making you feel like everything is completely out of control. And one of the best ways to feel happy, healthy, and in control of your life is to have a bedroom that makes you feel like an adult.
In an exclusive interview with Elite Daily, Arlyn Davich, the brand president at Allswell, a new women-led, Walmart-backed, luxe home brand, provides some tips for how to improve your bedroom for your post-grad life. Here are seven easy hacks for transforming your bedroom as you move away from college and into the real world.