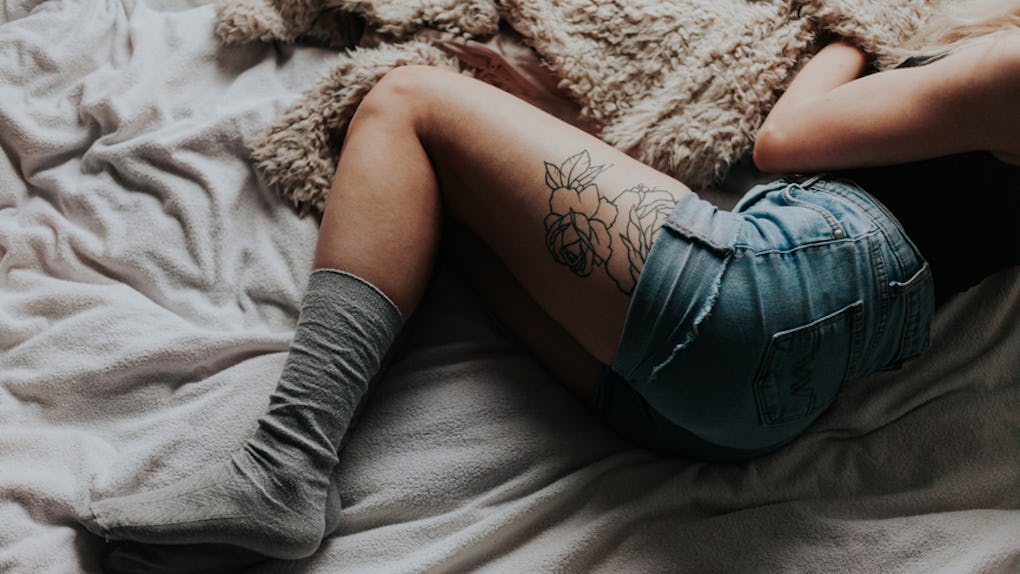 Boris Jovanovic/Stocksy
When To Throw Out A Duvet & 6 Other Bedroom Hacks You Should Know After College
After you graduate from college, there seems to be an endless list of things for you to figure out, all at once. You have to find a job, a place to live, and a way to delete all of the embarrassing things you've posted on social media in the last four years, to name a few. But then there are the mentally boggling items on the list that seem easy, but you have no answers for, like when to throw out a duvet cover, or how to decorate your room with something besides bottle caps and empty liquor handles you fashioned into flower vases.
No one expects you to figure everything out immediately, so don't put that type of pressure on yourself. But over time, there are certain ways of living that will improve your quality of life as an adult, allowing you to juggle your professional, personal, and home life more easily, without making you feel like everything is completely out of control. And one of the best ways to feel happy, healthy, and in control of your life is to have a bedroom that makes you feel like an adult.
In an exclusive interview with Elite Daily, Arlyn Davich, the brand president at Allswell, a new women-led, Walmart-backed, luxe home brand, provides some tips for how to improve your bedroom for your post-grad life. Here are seven easy hacks for transforming your bedroom as you move away from college and into the real world.
1. Start With Fresh Sheets
Solid Percale Cotton Sheet Set, $69 to $99, Urban Outfitters
Unless you slept swaddled in Egyptian cotton in college, then it's time to toss your sheets and replace those bad boys with some new threads.
"Changing up your bedding — the first thing you see in the a.m. and the last thing you see at night — is a great way to re-boot for a new life stage," Davich tells Elite Daily. What's more, she adds that your overall aesthetic might be different now than it was in college, and picking new sheets could be a great way to express your adult(ish) personality.
2. Invest In Proper Lighting
Murphy Collection Tree Floor Lamp Brass - Threshold, $47.49, Target
In college, you may have gotten by with ridiculously dim lighting in your bedroom, and maybe you even liked it, because it kind of made you feel like the star of an indie movie. But in reality, that lack of light was, more likely, just creating an atmosphere that made it practically impossible for you to get any work done.
Getting good, strong lighting for your bedroom is an excellent, not to mention easy adulting move. There are plenty of inexpensive options to choose from, like this lamp with three adjustable heads from Target.
3. Commit To A Weekly Wash
According to CNN, you should aim to wash your sheets once a week on a hot temperature cycle, to kill all of the germs accumulated from sweat, bacteria, and foreign particles of dirt that may have come with you to bed each night.
For your duvet cover, Davich suggests washing that bad boy about once a month. As for the insert inside of your duvet cover, Davich tells Elite Daily that only needs to be washed every six months or so.
4. Pay Attention To Your Mattress Quality
Finding a good mattress can be an intimidating task for anyone, not just recent college grads. One thing you shouldn't freak out about too much, though, is the cost, since a good mattress should last you around a decade, Davich tells Elite Daily. In other words, you know you're getting your money's worth with this kind of purchase.
When you're looking for a mattress, Davich suggests focusing on specific details, "like breathable memory foam to help increase airflow throughout the night so you don't sleep hot." Hybrid mattresses, she adds, contain both memory foam and coils, meaning they "provide extra support for those who like a firmer mattress."
The thicker the mattress, Davich explains, the more expensive it is to make, so height is another important cue for quality. To help you narrow things down a bit, you can take this quiz from Allswell to see what type of mattress is best for you.
5. Up Your Napping Game With Light-Canceling Curtains
Solid Blackout Thermal Grommet Curtain Panels, $32.30, Wayfair
Sleep is about to become very, very important in your life, especially now that you can't just snuggle into bed whenever you want throughout the day.
Creating a bedroom that is the ultimate sleep environment is one of the healthiest things you can do for yourself, and investing in light-canceling curtains is an excellent step toward achieving that goal.
6. Invest In A Humidifier
Cactus Non-Electric Personal Humidifier, $21.99, Bed Bath & Beyond
Nothing will make you feel more mature (and more like a grandma, albeit a happy, moisturized grandma) than when you come home and see that little orb sitting in the corner of your room, puffing out hot water vapors into the air.
A humidifier might not be the first thing you want to spend money on, but trust me, you'll be very grateful you did. It can help you combat dry skin, boost your immune system, and it'll even keep your plant friends happy, according to Be Well.
7. Opt For Layers On Layers For Your Bed
Your college bed might have just been an amorphous blob of blankets and sheets, but Davich suggests throwing some texture into the mix to add a more layered bedroom aesthetic.
"Upgrade to adulthood by layering a coverlet and duvet, and then accessorizing with a throw and some decorative pillows," Davich tells Elite Daily. "Adding visual interest through texture — as opposed to color — provides a sophisticated, yet cozy aesthetic."