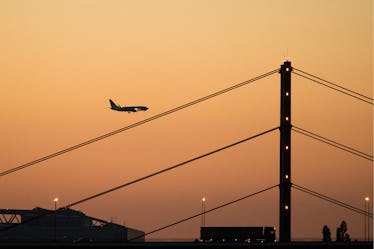 You Can Still Get Good Christmas Flight Deals If You Book Before This Date
Andreas Rentz/Getty Images News/Getty Images
Growing up, I never understood why adults were so frazzled amidst the jolliest time of year. As I got older, I realized that the holidays are by far the busiest times for pretty much everyone (myself included). From Dec. 1 to Jan. 2, my apartment is strewn with various papers, ugly sweaters, and endless coffee mugs — and booking holiday plans to visit family or friends is usually left until the last possible minute. To avoid last-minute scary-steep flight prices, here's when to book your Christmas flight if you haven't yet (hint: it's right now).
With a large majority of offices closed for winter break, the holidays are universally the best time to travel. Since everyone is traveling at the same time, however, knowing when to book — and when to fly — is crucial for saving an exuberant amount of time and money.
An Expedia spokesperson tells Elite Daily that the best time to book for Christmas is this week... and for NYE, it was at the beginning of the month. The spokesperson tells us,
For Christmas, the sweet spot to book is Dec. 5 to Dec. 11, and for NYE, you'll want to book about a month in advance. Expedia data shows these sweet spots will yield around 5 percent in savings.
So if you haven't already reserved your flight to visit your grandparents in Florida yet this holiday break, you could potentially save a pretty good chunk of money by booking it today through Monday.
If you're not entirely sure which days to book your flights for, have no fear... CheapAir's Christmas Calendar is here! According to their website, the best days to fly are Dec. 17 to Dec. 20, as well as Christmas Eve and Christmas Day. Although leaving the day before Christmas seems like a drag, it's actually considered to have the deepest flight discounts. Who knew?
Expedia also advises embarking on a winter excursions a little earlier, and leaving later to save a little bit of cash, as well as travel time. They tell Elite Daily,
Avoid peak travel days. Extending your trip to leave a day early and fly back a day later can save you a lot of money and time spent in transit. I prefer to travel on the holiday itself. Less crowds, better airfare prices.
Our Expedia source also continues to urge flyers to enroll in TSA Precheck or Clear, because it's a major timesaver in the airport. Between frolicking through the shortest security lines ever and not remove the shoes, it could be something worth looking into if you're aiming to spend a little less time in line.
If the wild holiday season is giving you major wanderlust but you absolutely cannot decide where in the world to go, make sure you take a look at the most popular U.S. winter destinations. Whether you're looking to get tan-as-heck or if you're seeking a cool getaway, there are tons of awesome travel destinations around the country that you may have not already considered.
And, if you're basing your wanderlust purely off of where you can get the biggest bang for your buck, make sure to check out a few really awesome flight deals this holiday season. Maybe you're looking to leave Newark to eat lobster in Maine, you're hankering to ditch the Boston cold for some Miami sun. Either way, there are some major steals on CheapOAir right now, so be on the lookout.
Between signing Christmas cards and finishing up the not-so-little project your boss inconveniently gave you last minute, I know this week is probably excruciating. But if you haven't already done so, you should really remember book your holiday flight before next week. It'll be just one more thing you can check off your holiday to-do list.
Check out the entire Gen Why series and other videos on Facebook and the Bustle app across Apple TV, Roku, and Amazon Fire TV.