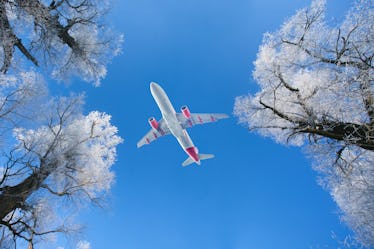 This Is When You Should Buy Your Christmas Flights For The Best Deal This Season
The merriest time of the year is often also one of the most stressful times thanks to holiday airfare costs that can cause a serious dent in your wallet. When fall comes around, I get into total deal-hunting mode and try to figure out when I should buy my Christmas 2018 flight, because let's be honest, who wants to spend their savings on last-minute price hikes? Luckily, Expedia recently released a guide detailing when you should be buying those tickets, and this inside information is exactly what you need to score the best holiday deals for yourself this winter.
According to Expedia flight data analyzing travel trends and airfare from the 2017 holiday season, the best pocket of time to book for Christmas festivities is 21-30 days out from the holiday. Another great time to buy is between Sunday, Nov. 24 and Monday, Dec. 3. That means that almost as soon as you've gotten out of your Thanksgiving turkey coma, the pressure is on to start thinking ahead to your Christmas plans — and making moves to book your flights.
According to Expedia, the the general optimal window to purchase your cheap flight tickets is from Oct. 26 through Dec. 4, so it would be wise to set your flight alerts when October comes around to start keeping an eye on the fluctuating prices.
If you resist your urges to procrastinate (aka don't not booking a flight on Dec. 24), you can save some major dough. According to Expedia's data, customers saved an average of 10 percent on holiday fares, which translates into more cash to spend on your loved ones during the holidays or even to purchase something special for yourself.
When it comes to Thanksgiving flights, it sounds like there's a little more leeway. Expedia estimates that you should be booking your flights between 31 to 90 days in advance, which is between now and Oct. 22, so it's crunch time to start making those holiday plans.
As for the cheapest dates to fly out during the season of cheer, CheapAir previously analyzed data to find that leaving for your destination on Tuesday, Dec. 18 or Christmas Eve and heading back on Friday, Dec. 28 or New Year's Eve are your most cost-effective options for Christmas-time travel. Meanwhile, the company's Holiday Flights report found that flying out on Monday, Nov. 19 or even on the day of Thursday, Nov. 22 (aka the busiest travel day of the year) is your best bet for saving some cheddar on your Thanksgiving travel plans.
If you're finally ready to rock down some travel plans, Expedia is offering a sale from 9:00 a.m. PDT on Sept. 14 through Sept. 17, and they estimate that you can save up to 90 percent on their deals. Most of their better discounts seem to be for hotels or hotel-flight combinations, so I'd keep that in mind as they recommend travelers book hotel rooms zero to six days away from your stay date for the biggest savings. Non-members can get $500 off a $1,000 flight and hotel package or 50 percent off select hotels with a coupon, while Expedia members can score up to 90 percent off select hotels and $750 off the flight and hotel package.
With all this information at your fingertips, there's no reason not to spend the weeks leading up to the holidays spreading cheer (and booking discounted flights) instead of worrying about emptying your bank account over a flight back home. Yes, 'tis the season to book expensive holiday flights, but these money-making insider tips will make the whole process as painless as possible.