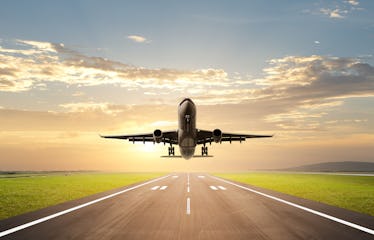 This Is When To Book Your Thanksgiving Flight For The Best Deals This Year
There's no way around it: booking flights during the holiday season is really tricky. Planning travel around the holidays can be especially harrowing when you try to book tickets within a few days of flying for a holiday like Thanksgiving. Thanks to limited flight availability and tickets that are off-the-charts expensive (like, stupid expensive), it can seem like there's never a right time to buy. If you're wondering when you should book your Thanksgiving 2018 flight, my advice is that you'll definitely want to get it done before November rolls around. That is, if you want to save some cash.
Gauging the best time to book a flight is always kind of fuzzy — especially when you're flying around the holidays. Thankfully, Expedia released some highly useful data in a Sept. 6 press release that reveals the cheapest time to book flights for Thanksgiving. According to the press release, if you're traveling around or during Thanksgiving (which is Nov. 22 this year), the optimal time to book your travel plans is 31 to 90 days beforehand, which is anytime between now and Oct. 22.
Why should you book tickets during that window? Because in 2017, holiday travelers who booked their November flights during that time saved an average of 10 percent on travel fares. Since I'm always down to save a few (or more) bucks on literally anything, I'm totally taking advantage of this incredibly handy information.
John Morrey, the SVP Brand Expedia, said in a press release that the busiest time to travel is coming up in just a few short months, so the travel company wants to help customers book their plans wisely. By releasing this data, the travel planning brand wants customers to feel good about their purchases, and personally, I'm all about it.
In the press release, Morrey said,
The busiest travel season of the year is right around the corner, and data shows us that early planning helps travelers save – especially on airfare. We like to inform travelers of these sweet spots so they can book confidently and maximize their savings ahead of the holidays.
The best time to book a hotel, however, is a little more flexible (and last minute) than booking a flight. Per Expedia's press release, booking a hotel closer to your trip, like, zero to six days out, can save you up to 20 or 30 percent. Waiting until the last minute to find something can be stressful, but sometimes, people cancel their plans last minute, and hotels just want to fill the room. If you're not really all about doing things last minute though (because same), Expedia recommends using its Add-On Advantage to save a little cash, instead. Apparently, if you add a hotel to a flight or car reservation, it unlocks some sweet discounts. I honestly never would have thought to do this, but per the release, it can be a huge money-saver.
When it come to finalizing your Thanksgiving flights, procrastinating definitely isn't wise. However, there's definitely a "sweet spot" when it comes to getting optimal pricing on your tickets, so it's best to start planning your Thanksgiving trip now. Saving cash is important — especially when it comes to traveling — so get on that money-saving train and book those plans ASAP.