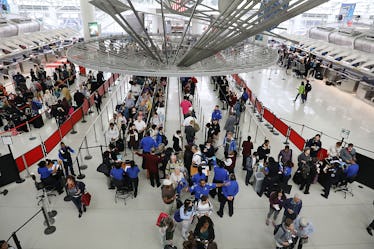 These Dates Have The Cheapest Holiday 2018 Flights, So Set Your Alerts
Spencer Platt/Getty Images News/Getty Images
If you're like me and are already dreading that fact that you'll have to spring for expensive plane tickets during the holidays, don't fret. This year, you'll have more money for presents — and maybe even a New Year's Eve getaway — because CheapAir is sharing the cheapest days to fly out for Christmas and NYE with their 2018 Holiday Flights Report. You'll want to set your flight alerts ASAP, because the cheapest 2018 holiday flights are on these dates. Read on to find out the best time to fly this holiday season.
Unfortunately, airfare for Christmas travel has slowly been on the rise since dipping down to $341 in April per CheapAir. In some good news, after monitoring 11,000 different flights during the holiday season, CheapAir's Christmas fare calendar has found that you're in luck if you have flexible travel dates. Get ready to mark down these cash-saving dates.
Flying out on Tuesday, Dec. 18 and heading back on Friday, Dec. 28 is the cheapest option, according to the publication. Although, extending your trip through the weekend and leaving on New Year's Eve appears to be comparable, price-wise. Considering that you'd only be taking off about two weeks (and only seven work days in total) with all the holiday fun in between, the rock-bottom fares could be worth booking them — especially if you've never been a big fan of traveling for your New Year's Eve festivities.
If you used up all your vacation days during that dream summer getaway (I feel you), flying out on Christmas Eve is also a steal (CheapAir estimates you'd save $76 if you chose that date instead of the more popular Sunday, Dec. 22). It's the cheapest choice to consider, especially if you've used up all your days off by the time December rolls around. If you want to fly out earlier, other relatively inexpensive flying dates include: Sunday, Dec. 16; Monday, Dec. 17; and Wednesday, Dec. 19.
Meanwhile, if you're planning to ring in 2019 with a bang and bid Auld Lang Syne adieu, there are a few things to keep in mind. According to CheapAir, Wednesday, Jan. 2 is the most expensive day to fly back, so you might want to consider heading back one day later. You could even book a return ticket for New Year's Eve and celebrate January 1 at home, midnight kiss and fireworks optional.
As for when you should pull the trigger on buying flights, it's all about the timing. According to TripSavvy, the best block of time to book Christmas travel is during the months of September and October, when flight prices fluctuate quite a bit and you can snag a great deal. On the other hand, booking too far ahead for your New Year's Eve travel plans can hurt your wallet. According to Expedia data, purchasing your airfare about 21 to 30 days in advance (November 26 through December 5) is the sweet spot if you want to save an estimated 5 percent on ticket prices. I know that it might seem like December is so far away, but now's the perfect time to start setting those price alerts — and stashing away some extra vacation days — to score your most affordable holiday flights yet.