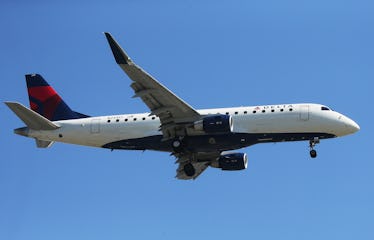 This Is The Cheapest Day For Thanksgiving Week Travel, So Plan Accordingly
Mario Tama/Getty Images News/Getty Images
ICYMI, summer is almost over and high-volume travel holidays like Christmas and Thanksgiving are just around the corner. While it feels pretty weird to be thinking ahead to Turkey Day when you're still in the throes of patio weather, planning out your holiday travel itineraries now can save you quite a bit of cheddar in the long run. According to CheapAir's 2018 Holiday Flights Report, this is the cheapest day for Thanksgiving week 2018 travel, so take note if you want to get the best flight deals and avoid inflated last-minute fares.
First things first. After analyzing over 10,000 flight itineraries and the average costs, the company's new Holiday Flights Report found that you can score the best prices if you fly out on Monday, Nov. 19 (CheapAir estimates that you'll save about $40 by picking this date). So, you might want to think about making that week into a mini vacation if you can swing it.
If you want to make use of the weekend as well, you can also save some cheddar by flying to your destination one day before on Sunday, Nov. 18. Can't spare the extra days off? One option is to head out on Thanksgiving Day on Nov. 22 — aka one of the busiest travel days of the year — and make it to the dinner table in time for your turkey feast and all the festivities.
Now that you know which days are best for your wallet, you probably also want to know which days should you try to steer clear of. According to the budget flight publication's new Holiday Flights Report, flying in to your destination on Tuesday, Nov. 20; Wednesday, Nov. 21; or Friday, Nov. 16 will cost you the most money. On the return trip, flying back home on Sunday, Nov. 25 will put the biggest dent in your wallet, so you should avoid these very popular (and costly) travel days if possible.
Now that you've got your outbound trip covered, let's look at your return flight. As I mentioned earlier, the Sunday after Thanksgiving day is actually one of the most expensive travel days of the year, and you can save at least $100 if you fly back one day later on Monday, Nov. 26. Meanwhile, pushing back your return to Tuesday, Nov. 27 can save you about $209, which means that taking a few vacation days might be well worth it. Plus, you'll beat the crowds to ensure that your trip back is much less stressful than it needs to be.
I know it feels weird to be thinking ahead to November when you're still living your best summer life, and it's so tempting to hold out to the last minute to book your flights. However, per Business Insider, airfare booked at the end of the year can cost you up to 75 percent more than if you'd purchased it before the peak season, so that's plenty of motivation for you to start solidifying your plans and requesting vacation days ASAP. As everyone knows, the holiday season can be a very stressful time to fly anyway, which is why I recommend fighting past your procrastination to book your discounted tickets sooner rather than later. Trust me, your wallet will thank you.