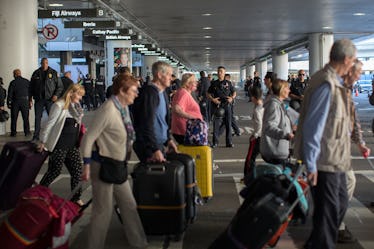 The Best Days To Travel For Thanksgiving To Avoid Crazy-High Fares
David McNew/Getty Images News/Getty Images
If you've procrastinated on getting your travel arrangements squared away for the upcoming holiday, your bank account might be hit hard. The best days to travel for Thanksgiving to avoid crazy-high fares are — you guessed it — a couple days before and after Thursday. For those planning to fly, it's worth doing the research to save some cheddar before turkey day.
According to the Associated Press, AAA predicts that 2017 will be the busiest Thanksgiving travel day since 2005. An estimated 50 million Americans will leave home for their holiday, an increase of 3.3 percent over 2016. With some 4 million of those flying — 5 percent more than last year — available flights (and cheap ones) may be in short supply.
Some of the general rules of thumb around when to book your flights on a normal week don't apply during the Thanksgiving holiday stretch. For example, on a normal week, Tuesdays and Wednesdays are often the cheapest days to fly, followed by Thursdays and Saturdays. Mondays, Fridays and Sundays are generally the busiest days. You definitely don't want to be sticking to the conventional travel schedule for this week.
Here are some tips for your best chance of travel that won't break the bank (or your faith in humanity.)
Try to fly in earlier than Wednesday.
The conventional wisdom we've all heard is that Wednesday prior to Thanksgiving is one of the worst days of the year to fly, and that's definitely not a myth. Not only is it one of the most expensive, but you'll be undoubtedly fighting lines at airports, plus scarce leg room and overhead space on the plane, and there's only so many prepackaged sandwiches one can eat before the darkness creeps in.
Look for tickets prior to Wednesday (this year, Nov. 22) to avoid the highest fares and the soul-crushing airport experience. (You'll have lots to be thankful for if you can avoid it.) If you're willing to travel out on Thanksgiving day, you may be able to find cheaper fares — but delays can happen, so travel at your own risk.
Don't book a Sunday return flight.
The Sunday following Thanksgiving always promises to be another sky-high travel day, as everyone's making their way back home after the long weekend. Thursday night (right after the big meal) and Friday are generally better on the wallet, USA Today says. Fewer people are trying to travel these times, so if you're flexible on your return tickets, this is an easy way to save.
SmarterTravel.com writes that, if you can swing it, wait to make your return flight for the following Monday (Nov. 27 this year), as most people will be back at work by then, and you'll probably score a much better deal.
Other tips to avoid paying top dollar?
Tips from Kayak on how to score low fares include paying attention to timing. If you've got a flexible schedule, be sure to open your search up by time of day to "anytime," so you're not competing with 4 million people for that one flight at 9 a.m. Another trick: fly into the less-traveled airports (most major cities have more than one).
According to Rick Seaney, CEO of FareCompare, airfare prices start to build on a daily basis through the months leading up to Thanksgiving. In early fall, for example, airfare rises about $.50 to $.75 per day, he says, rising to $1.50 a day by September and about $2.50 a day in October. Waiting till the last minute to book your flights means you could end up footing a bill hundreds of dollars more.
The good news is there lots of low-fare calendars and flight comparison sites out there, like FareCompare, that help you shop around for the best deals. The app Hopper is another great way to get flight alerts telling you when to buy your ticket at the lowest price.
If you're trying to save time and money on transportation costs, you may want to look ahead for your holiday break, too — December is the costliest month to travel all year. Happy booking!