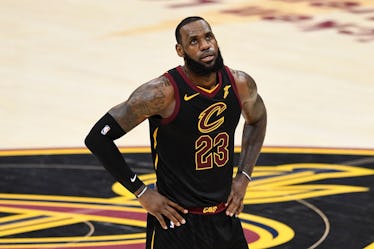 LeBron James Was Reportedly About To Release The 'Space Jam 2' Trailer, But Didn't
Jason Miller/Getty Images Sport/Getty Images
LeBron James just made a major move by signing with the Los Angeles Lakers, but apparently, his announcement was supposed to be even bigger. Leading up to James' decision, whispers were popping up that the basketball star would capitalize on his attention by dropping the trailer for his long-rumored Space Jam sequel... but that obviously did not happen. So, when is the Space Jam 2 trailer going to be released? It sounds like the trailer is ready to go, so hopefully fans will see it very soon!
The basketball coverage site Basketball Society was the first to report that LeBron James would release his Space Jam 2 trailer during his live team announcement on Sunday. According to the report by Brandon "Scoop B" Robinson, James intended to announce his partnership with the Los Angeles Lakers via the newly launched Instagram TV platform. The announcement was said to include the first trailer for Space Jam 2, which would have ended with James donning a Lakers jersey to play ball with the Looney Tunes, revealing his team selection. However, according to the Basketball Society report, James opted to pull the trailer after the news got out about it. I guess that means we will just have to keep waiting — although if James really does have a finished trailer ready to air, then we might not have to wait too long.
Space Jam 2 has been a sort of nebulous, half-formed production for several years now. It was first announced back in 2014 with LeBron James attached to take over Michael Jordan's starring role, but James denied the reports. However, talk of James in Space Jam 2 was resurrected a couple years later, after James showed off his acting chops in Trainwreck. In 2016, Warner Bros. Pictures confirmed that James would star in the sequel, and that Fast & Furious director Justin Lin was signed on to direct.
A few months after reports confirmed that LeBron James was Warner Bros. pick to star in Space Jam 2, the franchise's original star Michael Jordan sounded off that he would have selected Blake Griffin to take the lead role. The drama of it all! But as things ended up, LeBron James is still tied to Space Jam 2, although we really had not gotten any updates on the movie for a couple of years, until this week.
Reportedly, LeBron James is sitting on the Space Jam 2 trailer right now, meaning that it could presumably be released at any moment now. Then again, it sounds like the crux of the trailer is the big reveal that James has joined the Los Angeles Lakers, which is no longer a surprise to anyone, so maybe he will have the trailer recut in some way before dropping it.
LeBron James has notably been becoming more involved in the film industry recently. In 2015, he won somewhat surprised praise for his comedic performance in the Amy Schumer comedy Trainwreck, and he is now set to star in the Warner Bros. animated comedy Smallfoot. And of course, with his new move to Los Angeles, Hollywood is closer than ever for James.
The actual plot of Space Jam 2 is still totally under wraps, but it is a safe bet that the new sequel would recreate a number of the plot devices that made the 1996 original such a cult phenomenon. Like Michael Jordan before him, LeBron James will likely play himself in the new movie, and find himself falling into the Looney Tunes world, where he will have to help the beloved cartoon characters in a fight against evil using his basketball skills. Keep your fingers crossed that we get to see the first Space Jam 2 trailer soon!